Purely by accident, I ran across a link to this video today:
http://sfglobe.com/?id=1407&src=share_fb_new_1407
It just so happens that I bought my first watermelon of the season today and happened to watch this first.
Maybe everyone else on the planet already knows about this, but I tried this technique and it really WORKED! Yeah, it took me two minutes instead of ten seconds but, in my defense, my watermelon was bigger, the rind was thicker and I really wasn't working with the best possible knife. Still, I was very pleased with the results. Much, much less waste and much, much less mess. Almost no juice to contend with until I started cutting the "peeled" watermelon into slabs and cubing it.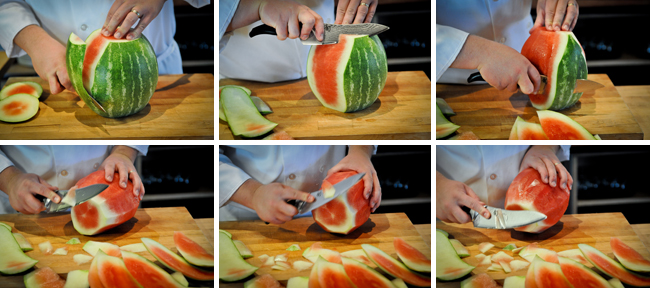 So what's YOUR favorite kitchen tip?
Lois