Bahn Thai & M returns Thai flavor to Holiday Manor
If you think fried rice sounds boring, you need to try this exciting Thai alternative, deeply flavored with aromatic Thai basil and full of crisp veggie bits and meaty pressed tofu.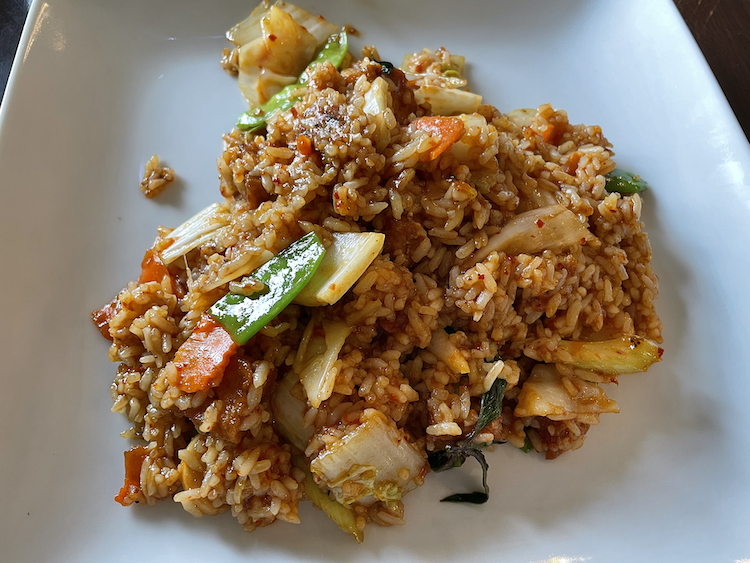 It's not usually difficult for a restaurant critic to learn about new eateries around our town. Either the owner or chef clues me in with an email, text, or news release, or I'll hear about it on social media or the Louisville HotBytes forum.
Now and then, though, an appealing new place will fly under the radar until, like Columbus "discovering" America, I stumble into it myself.
So it was the other day when I rolled into Holiday Manor, planning a quick run to Kroger, when I suddenly noticed a bright new storefront sign: "Bahn Thai & M," it read.
Wait a minute! That's the space where Thai Cafe, one of my favorite local family-Thai eateries, had been turning out tasty Southeast Asian fare for almost 30 years, making it the oldest surviving Thai spot in town.
Hoping to learn more, I got in touch with my friend Vichan Snow, whose parents, Billy and Chavantee Snow, had owned Thai Cafe since opening day. "My parents sold it and they are no longer involved," he said.
After all those years, the Snows deserve a happy retirement, and I hope they're enjoying it. And my task was clear: Check out the new Thai place, see what I think, and let all of you know.
Bahn Thai & M, the host told us, is connected by ownership with another Bahn Thai restaurant in Fern Creek's Glenmary Center. The Moundine family joins the Klomklao family in this new property, hence the added "& M."
The Holiday Manor shop's menu appears a bit more compact than the Fern Creek property's bill of fare, but it still offers a good cross-section of Thai cuisine. ...
Read the complete article with both reviews on LouisvilleHotBytes,
https://www.louisvillehotbytes.com/bahn-thai-m
You'll also find this review in LEO Weekly's Food & Drink section later today:
http://www.leoweekly.com/category/food-drink/
Bahn Thai & M
3930 Shelbyville Road
873-5561
https://bahnthaim.com/
Facebook:
https://bit.ly/BahnThaiNM
Noise Level:
The room was crowded but the noise was generally bearable. Levels averaged 61.9dB (normal conversation) with peaks to 67.4 dB (requiring a little more effort to be heard).
Accessibility:
 The restaurant and restrooms appear accessible to wheelchair users except for a few booths.