Hauck's Corner returns, dainty and all
Two flattened burgers, a fried egg and plenty of bacon make Hauck's smash burger a breakfast on a bun.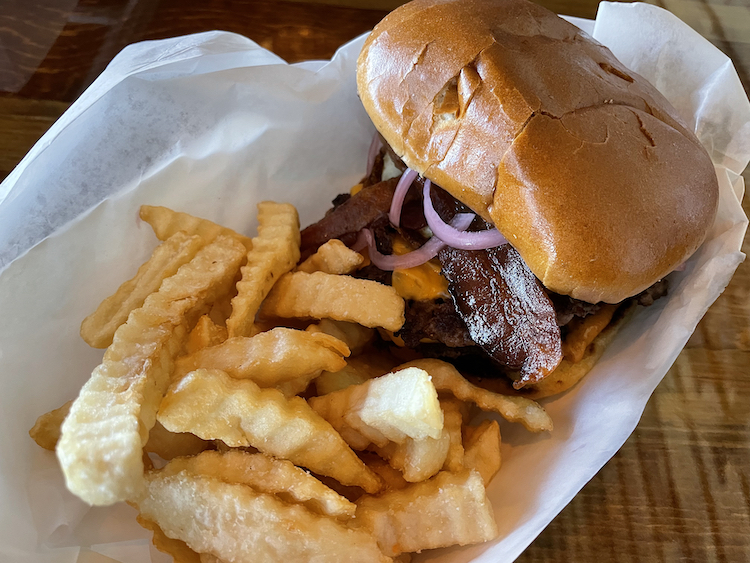 Last summer, 110 years after Hauck's Handy Store opened as a neighborhood grocery on a Schnitzelburg street corner – and three years after it closed following the death at 100 of owner and patriarch George Hauck – this local landmark returned as a restaurant and bar.
In 1912 you could buy a baloney sandwich on white bread at Hauck's and get change from a dime. Today, a century and $1 million in renovations later, you can still get something like that, but they spell it "bologna" now, and it will cost you $14.95 for a thick-cut, smoked slice perched on a brioche bun with stone-ground mustard, pimento cheese, pickles, and an over-easy egg.
Hauck's Handy Store may be best known to the wider community for its annual dainty contest in July, a game rooted in Schnitzelburg in which mostly older guys compete at batting a small stick with a larger stick. Hauck's Corner had its soft opening in July in order to host the dainty fun.
There was nothing particularly dainty about our food, though, and I say that in a good way. The fare at Hauck's Corner mirrors the tradition of a Schnitzelburg corner grocery, but gently melds it with the more gentrified vibe that lights up the 21st century neighborhood.
What's more, the restaurant's kitchen is actually a food truck backed into the patio with a single chef working within (at least at lunchtime), so expect hearty and casual fare but not elevated cuisine.
The bones of the old two-story house and store remain very much in view, including that landmark red sign that towers over the street corner. New structure surrounds the Texas Avenue side of the building, making space for additional dining rooms within.
There's a large patio at the back, now partially enclosed and heated for winter. The old building has been made wheelchair-accessible thanks to attractively sloped sidewalks connecting several entrances. (Take care, though, when you step from the dining area into the patio to pick up your meal at the food-truck window: There's a long step down, and no sign on the door to warn you.) ...
Read the complete article on LouisvilleHotBytes,
https://www.louisvillehotbytes.com/hauc ... er-returns
You'll also find this review in LEO Weekly's Food & Drink section later today:
http://www.leoweekly.com/category/food-drink/
Hauck's Restaurant & Bar
1000 Goss Ave.
384-9374
https://hauckscorner.com
https://facebook.com/hauckscorner
https://instagram.com/hauckscorner
Noise Level:
Noise Level: We had no difficulty chatting even with a large party nearby and '80s tunes on the sound system. Average sound level was around 65dB, the range of normal conversation.
Accessibility:
They've done a good job of arranging alternative routes for wheelchair users to avoid steps and bumps. Watch out, though, for that high step down from the dining room into the patio.