Alley Cat Cafe has no cats, just great cheap eats
Alley Cat Cafe's version of a classic french dip roast beef sandwich comes sliced on a hoagie roll with a cup of salty bouillon for optional dipping.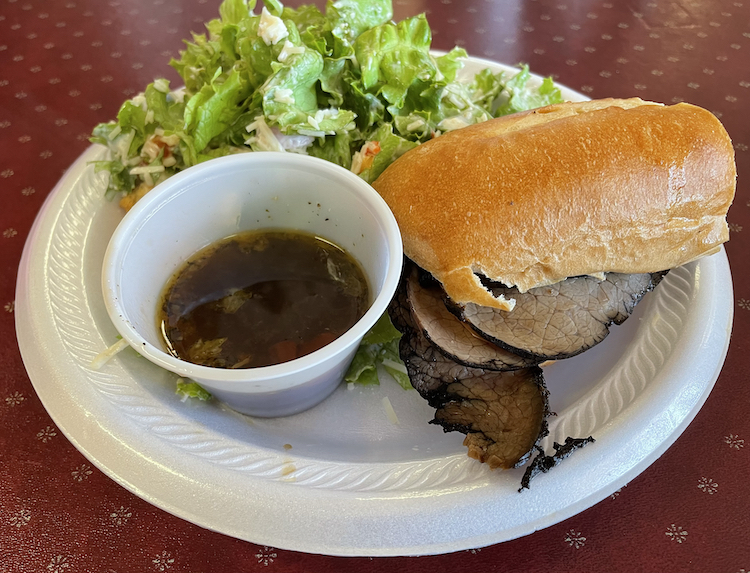 "We do not have cats," a sign in the front window of Alley Cat Cafe's little dining room warns, perhaps to ward off disappointment from visitors expecting to delight in a cat cafe with cute kittens jumping on the tables.
There are, in fact, a few ceramic cats on a tchotchke shelf in a corner. But Alley Cat Cafe is best known as a destination for delicious, affordable breakfast and lunch, attracting crowds on Middletown's old Main Street for 21 years.
It's been almost that long since I last reviewed Alley Cat Cafe, and looking over my 2003 review, it appears that hardly anything has changed. The casual, homey decor is about the same, most of the menu selections remain unchanged. The room is as neat as a pin, with a big green Health Department "A" and a 100-point score on the wall to prove it. Even the prices haven't gone up as much as 20 years of economic turmoil might suggest.
"I'm hard pressed to think of any other local eatery that offers food of this high quality for a price this low," I wrote at the end of that review. "Highly recommended." From 2003 to 2022, I wouldn't change a word of that.
Alley Cat Cafe is open daily except Sunday for breakfast and lunch, beginning the day with basic breakfast dishes and continuing through early afternoon with a selection of soups and sandwiches plus a few entrees, many showing a faint Italian accent. Everything on the breakfast menu is $9.99 or less, and the same is true for all the lunch items except three entrees that top out at $13.25 (for salmon sauteed in lemon caper sauce).
The Cafe is also famous for its homemade cakes, which are on display in a glass-front case to tempt you through your meal.
When we arrived, the polite server let us know that she was working alone in the crowded room, so service might be a little slow. That's a smart move: It's much easier for me to relax when I know there's going to be a delay than to be irritated with an unexpected wait.
As it turned out, our meals didn't take that long anyway ...
Read the complete article on LouisvilleHotBytes,
http://www.louisvillehotbytes.com/alley-cat-cafe
You'll also find this review in LEO Weekly's Food & Drink section later today:
http://www.leoweekly.com/category/food-drink/
Alley Cat Cafe
11804 Shelbyville Road
245-6544
https://facebook.com/AlleyCatCafeandCatering
Noise Level:
This popular spot fills up at lunch time, with plenty of talking going on, but background music is so soft as to be almost inaudible. Decibel levels averaged 70dB (normal conversation) but with peaks to 78dB (the range of loud singing) and lulls as low as 60dB (the sound level of a quiet residential street).
Accessibility:
There were no obvious barriers to wheelchair users in the small dining room.