Simply Mediterranean brings Lebanese flavor
Shawarma loads thin-sliced flank steak, pickles, and veggies into a paper-thin markouk flatbread roll.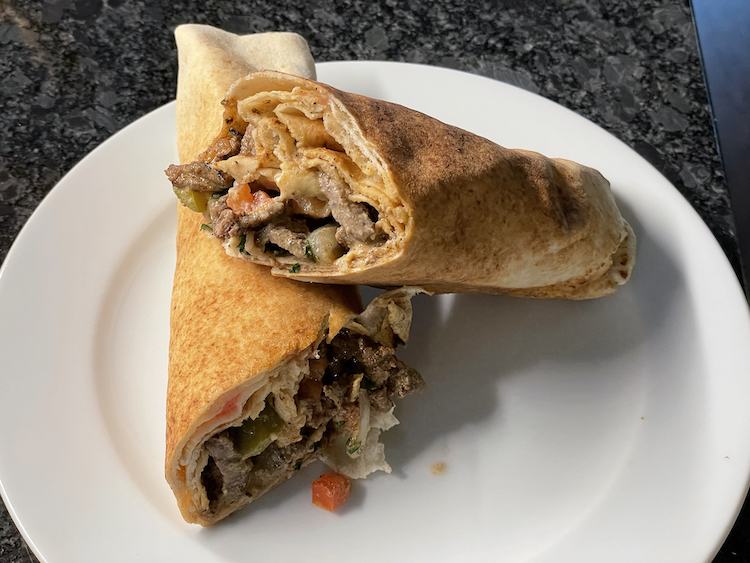 Back in the late winter of 1984, I did my first restaurant review for The Louisville Times. I enjoyed a great dinner at a short-lived Lebanese restaurant on Bardstown Road with a Lebanese-American friend who spent a short time at the city's afternoon paper before moving on to bigger things.
Here we are, almost too many years later to count, and I've just finished a tasty repast from Simply Mediterranean, which I believe is the city's first ethnic Lebanese restaurant since then.
Why has it been so long between iterations of such a cuisine? Louisville has boasted a vibrant Lebanese-American community since Ellis Island days, and quite a few neighbors with Lebanese ancestry have been involved in the restaurant, grocery, and food-distribution business, all the way back to the city's storied Haymarket.
Anyway, I'm delighted to welcome Simply Mediterranean, which as its name suggests, operates under the broader umbrella of "Mediterranean," melding the cuisines of the Eastern Mediterranean from Greece through Turkey, Lebanon, Syria, Israel, Palestine, and Egypt, and over to Iraq and Iran too.
We've got a couple of dozen Mediterranean restaurants around the metro now, and if they all look similar, they're certainly not identical. Each offers an appetizing whiff of its owners' heritage, and you should pay attention to that. Look more closely and you'll realize that this one's Persian, that one's Syrian, and the folks at that one over there hail from Palestine.
So take my advice: Try to discern which national flavor reflects your host's background, and choose those dishes. You can enjoy a good gyros anywhere, but the fare that come from the owner's heart and speaks of the owner's soul will make you happiest of all.
We got an immediate and smiling welcome from Chef Farrah, who was working behind the counter, and her husband, Chef Ziad, who gave us a friendly wave through the window from the kitchen. She boasts half Lebanese and half Palestinian ancestry, she told us; he's all Lebanese.
The first thing you see on the menu is a catering page with combo meals ranging from $60 (for a moussaka repast) to $120 (for a tempting roast lamb leg). It's not as pricey as it seems: These are full meals that serve four to six.
Actually, only a handful of main dishes are more than $10 ...
Read the complete article on LouisvilleHotBytes,
http://www.louisvillehotbytes.com/simply-mediterranean
You'll also find this commentary in LEO Weekly online later this week.
http://www.leoweekly.com/category/food-drink/
Simply Mediterranean
2900 Brownsboro Road
963-5577
http://simply-mediterranean.com
https://facebook.com/SMediterranean
Noise Level:
The takeout waiting area was as quiet as could be.
Accessibility:
The entrance is fully accessible to wheelchair users, but the front door is heavy and hard to pull, and four high tables and stools for limited dining in would be impossible for most wheelchair users.