Emmy Squared brings Detroit pizza from Brooklyn
Spicy vodka-laced tomato sauce and pecorino cheese make Emmy Squared's vodka pizza a piquant mashup of the classic margherita pie.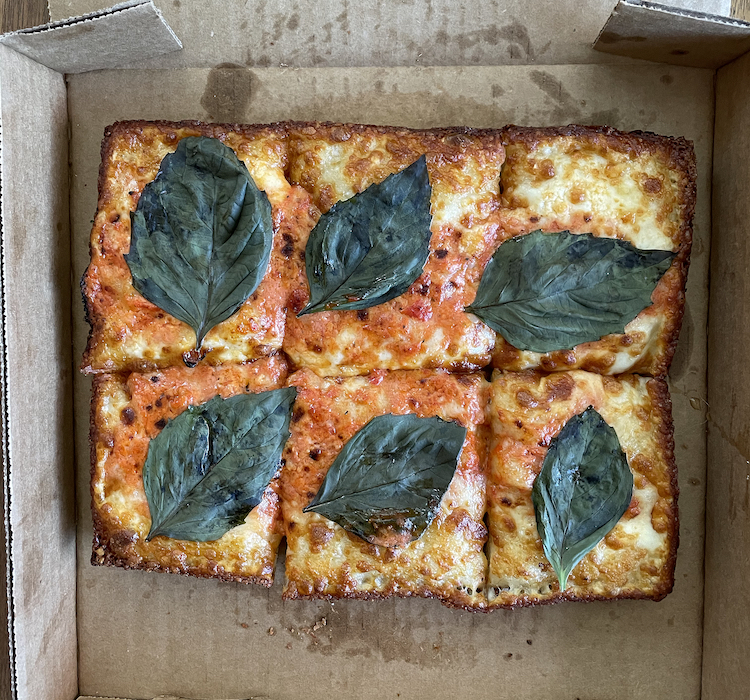 Pay attention, now, because what I'm about to tell you might not make sense if you hear it with only half an ear: A popular Brooklyn restaurant that features Detroit-style pizza has opened in Louisville.
Yes, that's right: Say hello to Emmy Squared, new in NuLu, where you can get fine square pizzas in the fashion of Detroit, plus worthy burgers and a lot more goodies that you won't find in your usual pizza joint.
Starting from its base in gentrifying Williamsburg, Brooklyn, in 2016, Emmy Squared is going national, with two more shops in Gotham plus Philly, Washington D.C., and most recently, Nashville, Tennessee, and Louisville. Emmy Squared's East Market Street storefront joins the emerging NuLu Marketplace consortium along part of the 800 block.
But we're here to talk about pizza, and Emmy Squared makes a good one. The menu offers a broad selection of pizzas and quite a bit more. It starts with seven appetizer plates that include such Italian restaurant standards as cheesy garlic sticks ($8) and eggplant parm ($15), but goes on to add five variations on waffle fries (from $8 for plain fries to $13 for double chopped cheese topped with grass-fed beef, smokey queso, and more).
Four salad options range in price from $10 (for a Caesar) to $15 (for the Huge Hot Chicken Wedge, iceberg topped with Nashville hot chicken. Want bacon? That's three bucks more).
Three sandwiches – eggplant parm, chicken parm, or Nashville hot chicken katsu, all built on tasty pretzel buns – are $13 each. Burgers, also on pretzel buns, are the chopped cheeseburger with grass-fed beef and American cheese ($11), and Le Big Matt, double-stacked grass-fed beef patties and American cheese ($16, plus a $3 upcharge for bacon).
Some day I'm coming back for that Le Big Matt, but we were here for the pizza, and it did not disappoint. Nine red-sauced pizzas and eight white pies range in price from $13 (for a classic cheese-and-tomato-sauce model) to $19 (for a red-sauce pizza topped with Nashville hot chicken). You can also get creative with 16 added toppings, $2 for most veggie options, $3 for meats, and $5 for creamy Italian burrata cheese. ...
Read the complete article on LouisvilleHotBytes,
http://www.louisvillehotbytes.com/emmy-squared-pizza
You'll also find this review in LEO Weekly's Food & Drink section today.
http://www.leoweekly.com/category/food-drink/
Emmy Squared Pizza
825 E. Market St.
785-5800
http://emmysquaredpizza.com
https://facebook.com/emmysquarednulu