Chef changes keep Mesh on tasty track
Mesh's Amish chicken entree is plated with prosciutto and blue cheese.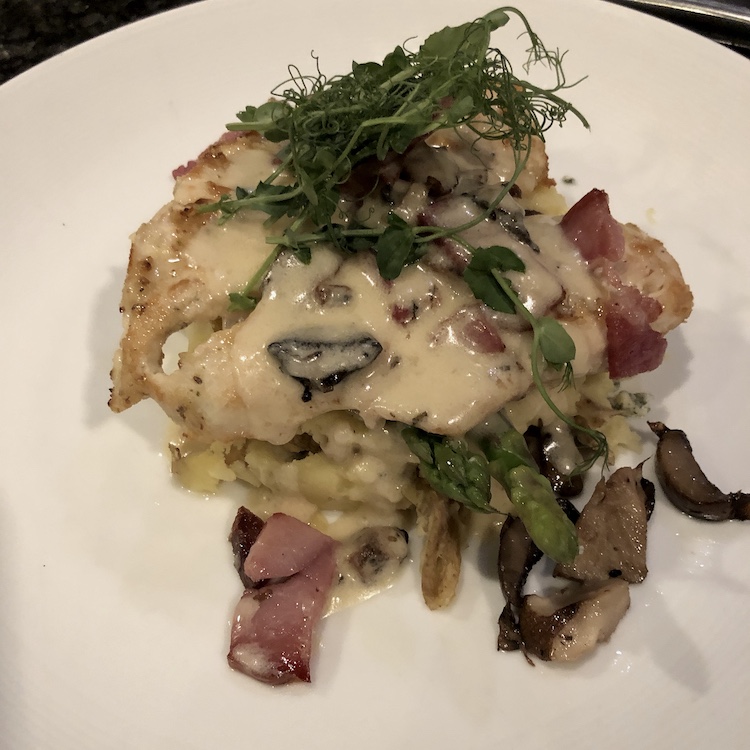 As smoothly as a runner receiving the baton in a fast relay, new hands have taken charge of the kitchen at Mesh restaurant without missing a step. If you're looking for casual modern elegance for holiday-season dining, Mesh should definitely be on your list.
We dropped in for dinner recently with our friends Linda and John and found new Executive Chef Jason Cantara's kitchen turning out first-rate dishes, with smooth, friendly service maintaining the high level that this Brownsboro Road destination has made its own since it opened in 2015.
When Mesh's Executive Chef Robert Temple moved on recently to become chef de cuisine at the new Walker's Exchange at the Galt House, Cantara earned a promotion from Mesh's sous chef to the top post. Jimmy Owens, now Mesh's sous chef, comes from Ember Wood Fired Kitchen in Mount Pleasant, South Carolina, to his new post.
Mesh, you'll recall, is the striking modern building that rose over the ruins of the historic white house that housed Bauer's for more than a century, followed briefly by Paloma and then Azalea. Times change, things move on, and that's all right. The new venue's brick, stone, wood, and glass create a warm environment that's modern yet feels timeless.
Mesh is part of the Indianapolis-based Cunningham Restaurant Group, which also operates about 20 restaurants under 15 separate concepts in Indiana, Ohio, and Kentucky, including the original Mesh in Indianapolis, with a menu quite similar to the Louisville shop. It's no chain, though, and it's clear that Cantara & Co. are free to work their magic in the local kitchen, including the studied use of locally produced meats and produce.
About 18 dinner entrees are subdivided into sea (seafood and fish), land (meat and poultry) and garden (vegetarian), and range in price from $19 (for veggie pad Thai or grilled squash linguini) to $35 (for grilled venison). Eighteen shareable starters, salads, and soups are priced from $6 (for Blue Dog bread or white bean chicken chili) to $16 (for tuna poke or a cheese-and-meat board). Three dinner sandwiches are $13 (for a Nashville hot chicken sandwich) to $15 (for a Hot Brown). ...
Read the full review on LouisvilleHotBytes,
http://www.louisvillehotbytes.com/chef-changes-mesh
You'll also find this review in LEO Weekly's Food & Drink section today.
http://www.leoweekly.com/category/food-drink/
Mesh Louisville
3608 Brownsboro Road
632-4421
http://meshrestaurants.com
https://facebook.com/meshlouisville
https://instagram.com/meshlouisville_
Robin Garr's rating:
88 points.
Noise level:
Dining at Mesh on a crowded evening is not a quiet experience, but sitting enclosed in a high-back booth does help. Average sound at our table was 80dB (the sound level of a garbage disposal) with peaks to 87dB (approximating a food blender).
Accessibility:
The modern building is mostly accessible to wheelchair users, although booth seating is up a step.