Palatucci's offers Italian flair with a Bronx accent
Palatucci's maccheroni alla chitarra is al dente and filling with its garlicky, rustic San Marzano tomato sauce.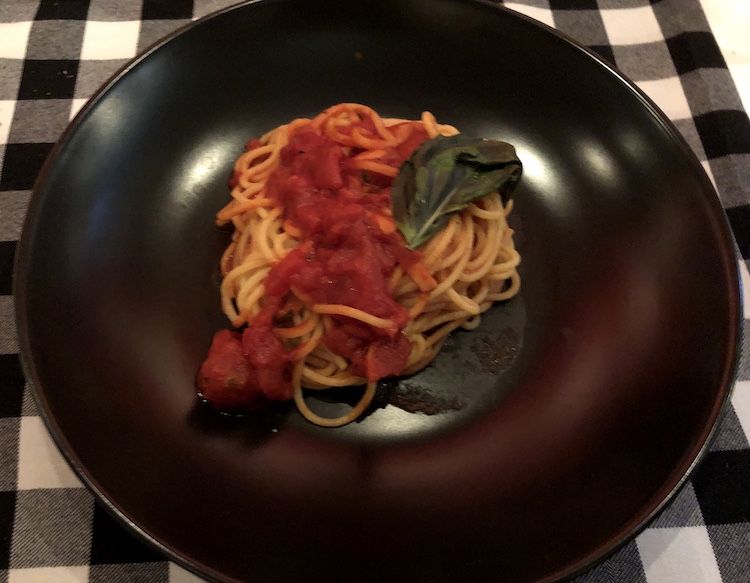 A little piece of the Bronx has broken off and come to Louisville, and we couldn't be happier. Especially since the chunk of Jonas Bronck's old dairy farm that landed here reminds us of Arthur Avenue, the Bronx' memorable slice of Little Italy.
So say hello to Palatucci's Italian-American Ristorante, opened last month in the quarters previously occupied by Gary's on Spring. Chef Richard Britney, who owns the place with his wife, Tamara, traces his roots, and his love of Italian food, to a grandmother who lived in the Bronx.
That's a deep background to bring to an Italian eatery; and if Palatucci's is one among many Italian places here, Brittney's touch yields a distinct flavor that stands on its own. It's not quite the ethereal high-end Italian style of the city's white-tablecloth places, but a little more refined than our red-sauce family-Italian eateries on the other hand. And for what it's worth, there's no pizza on the menu – at least not yet.
The dining room's style is right out of Little Italy, too, with old Italian family photos on dark-red walls, striped banquettes, and a mix of white cloth and black-and-white checkered tablecloths laid over white on the tables. Heavy flatware and dishes and quality wine glasses signal casual elegance, but not the kind that forbids noisy conversation and laughter. That goes double for the large bar room upstairs and the expansive patio on the south side of the building.
Britney and Chef de Cuisine John Fields' menu isn't overly long, but it's all-Italian. In proper Italian form, it separates pasta dishes from main courses, assuming that you'll be having a
primi
("firsts") pasta course before your
secondi
("seconds") entree. If I tried that at Palatucci, I'd be taking a stack of leftovers home. ...
Read the full review on LouisvilleHotBytes,
http://www.louisvillehotbytes.com/palat ... lian-flair
You'll also find this review in LEO Weekly's Food & Drink section today.
http://www.leoweekly.com/category/food-drink/
Palatucci's Italian-American Ristorante
204 S. Spring St.
618-1049
http://palatuccis.com
https://facebook.com/palatuccis
https://instagram.com/palatuccis
Robin Garr's rating:
89 points.
Noise level:
The room wasn't crowded on a weeknight, and conversation was easy at our table. (Average sound was 74dB, the level of normal conversation, with peaks to 85dB, the sound of loud singing.)
Accessibility:
The main entrance is up several stairs and not accessible to wheelchair users, and the separate bar area is up a full flight of stairs. An entrance through the patio is at ground level, though, and the restrooms are equipped for disabled patrons.