Milantoni offers fine Italian, the old-fashioned way
LEO's Eats with Robin Garr
The pizza margherita at Milantoni might be a little more inviting in fresh tomato season, but it covers the basics.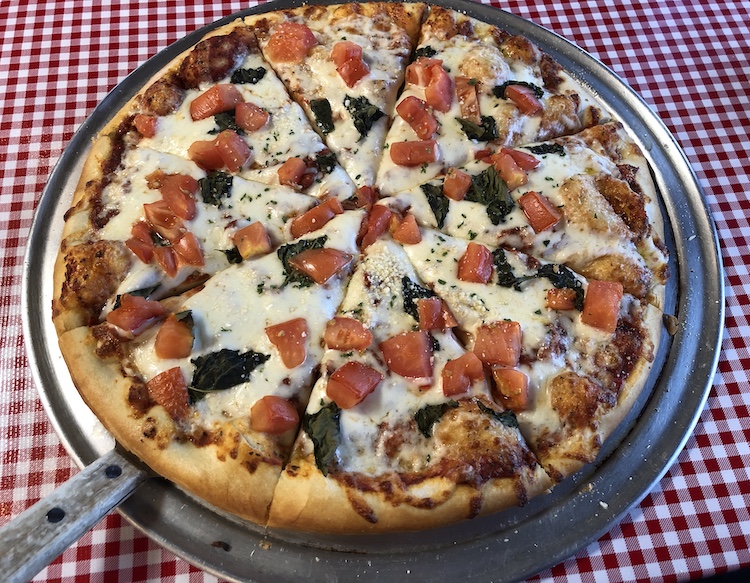 Once upon a time, within living memory for many of us, Italian dining meant hearty, red-sauced pasta, garlic bread, maybe a little lasagna, and fake ivy on the ceiling.
Then, just like that, back in the '70s, Italian went upscale. Before we knew it we were all gaga about what we called Northern Italian cuisine, with nary a drop of marinara in sight.
But in our hearts we know we still crave the comforting old-school family-style Italian-American fare, don't we? If you're suddenly craving some ravioli or chicken parm – and pizza of course – then here's my advice: Head for Milantoni Italian Restaurant and mangia, mangia, mangia!
It's not hard to get into Milantoni, but you have to keep your eyes open. Head south on Hurstbourne - you can't get across the median barrier from the northbound side. Cross under I-64, past the first off-ramp, and quickly, before you reach the second off-ramp, hook right through a service station to Milantoni's side door.
The building was once a fast-food eatery. But when you step inside now and see a forest of plastic ivy draped over white latticework, and tables clad in cheerful red-and-white checkered tablecloths, you'll know you've found Italian the way Italian used to be.
The extensive menu covers a broad range of traditional family-Italian dishes. ...
Read the full review on LouisvilleHotBytes,
http://www.louisvillehotbytes.com/milan ... ne-italian
You'll also find this review in LEO Weekly's Food & Drink section today.
http://www.leoweekly.com/category/food-drink/
Milantoni Italian Restaurant
1600 S. Hurstbourne Parkway
742-8210
http://milantoni.com
Facebook:
http://bit.ly/Milantoni
(Another location: 1008 Commerce Blvd., Bardstown, Ky, (502) 331-6160.)
Robin Garr's rating:
78 points
Noise level:
A pleasant but not deafening buzz didn't interfere with our group's dinner conversation or our lunch for two. (Average sound level was 77dB, the typical sound level inside a moving car, with peaks to 82dB, the sound of loud singing.)
Accessibility:
Entrance doors on the side of the former fast-food building are heavy and hard to open, but once inside, dining room and rest rooms appear accessible to wheelchair users.