Martin's lands in old Lynn's with decent 'cue, no ugly lamps
LEO's Eats with Robin Garr
The scene at Martin's pays some homage to Lynn's memory, without the notorious ugly lamps.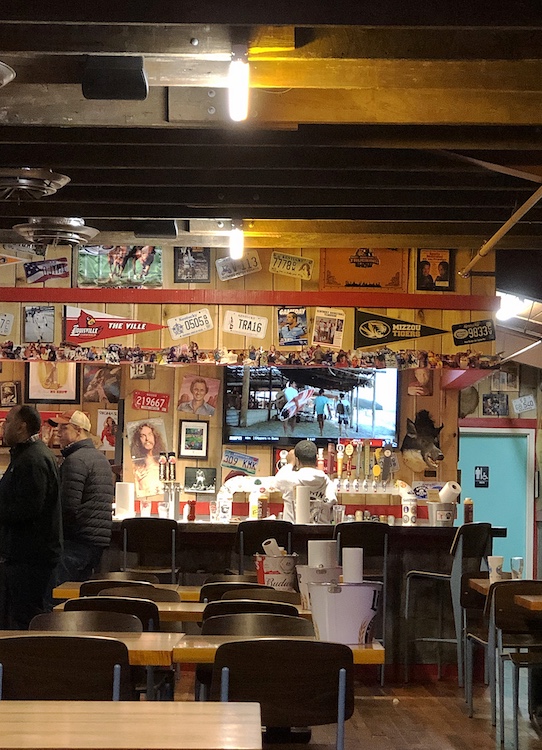 Five and one-half years and about 500 rumors later, the long-vacant space that long had housed Louisville's Lynn's Paradise Cafe is occupied again. Martin's Bar-B-Que, a small Nashville-based barbecue chain, re-opened the Barrett Avenue A-frame in late August as its eighth property.
Lynn's, which had enjoyed a 21-year run either beloved or mocked for its wacky decor and oversize Southern-style dishes, closed abruptly on a Friday night in January 2013.
Lynn's was surely one of a kind, decorated in bright primary colors, retro diner-style chrome-trimmed tables, and bright red and blue booths, with a trademark ugly lamp on every table and a giant fake tree in the middle of the room.
Martin's is not like that. In fact, every vestige of the Lynn's look has been removed, including that famous tree, which had the unexpected effect of making the large room look even bigger. Overall, it looks like a gigantic country barbecue joint, from the plank floors to wooden walls, wooden tables laid out in long rows, and open rafters overhead.
In place of Lynn's geegaws and tchotchkes, Martin's covers the walls with barbecue-flavor road-trip kitch, a collage of country music posters, highway signs, license plates, college pennants, movie posters, no-trespassing signs, images of motorcycles and classic cars, and, hovering over one end of the room, a giant fake sailfish.
Diners line up along one side of the room to place orders for food and drink at the back, where you'll also find a brightly lighted bar with a dozen beer taps, all stocked with well chosen local and regional craft brews. There's also a long, 25-seat bar in another room. I settled right in with a pint of citrusy, hoppy Three Floyds Gumballhead wheat beer ($6) from Munster, Ind.
Martin's extensive menu covers most of the traditional barbecue ground – pork, beef, chicken, turkey, sausage, even bologna – but they're particularly proud of their pork, which is prepared daily with a whole hog smoked low and slow for about 20 hours over a mix of coal and hickory. ...
Read the full review on LouisvilleHotBytes,
http://www.louisvillehotbytes.com/marti ... -old-lynns
You'll also find this review in LEO Weekly's Food & Drink section today.
http://www.leoweekly.com/category/food-drink/
Martin's Bar-B-Que Joint
984 Barret Ave.
242-0020
http://martinsbbqjoint.com/germantown
https://facebook.com/martinsbbqlouisville
Robin Garr's rating:
85 points
Noise level:
Even on a quiet weekday night with the room less than half full, the combination of chatty parties and country music can build up a buzz. It may be harder to hear your partner on busier evenings. (Average sound level 79dB, with peaks to 89dB.)
Accessibility:
The entrances, tables and restrooms appear to be fully accessible to wheelchair users.