Chilakiles has delicious Mexican breakfast and more
LEO's Eats with Robin Garr
Chilakiles' pollo rostisado, roast chicken blanketed in gently spicy red-chile sauce.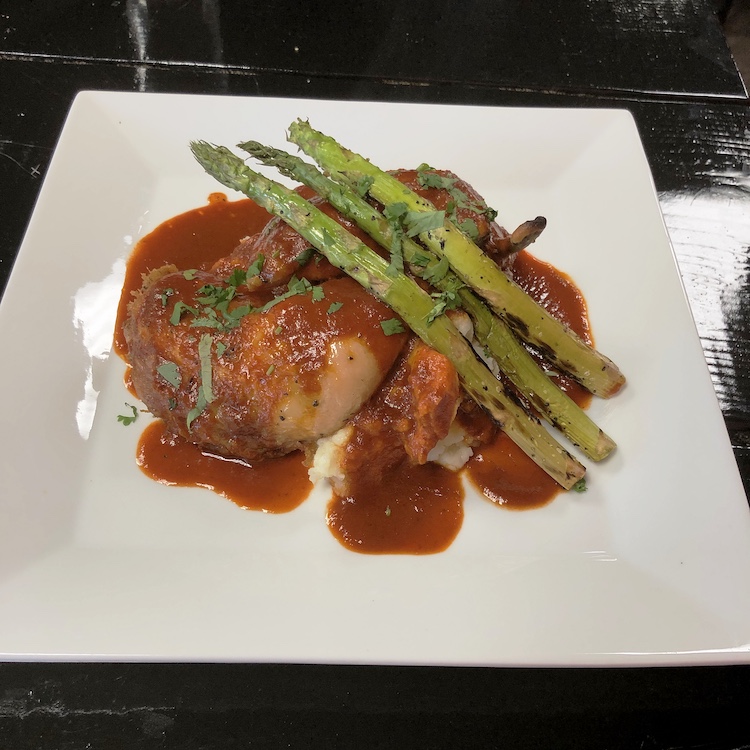 A couple of weeks ago, I started getting glowing reports from friends and readers who urged me to check out a new little South End Mexican breakfast spot called Chilakiles.
But when I asked Google to search, Google fought back.
"Did you mean: chilaquiles?"
No! I said "Chilakiles," and "Chilakiles" is what I meant.
Google didn't believe me! I say "Chilakiles," Google says "Chilaquiles." Let's call the whole thing off? Nope, can't do that. It sounded too good.
So I persevered, and finally got through, discovering in the process that there are apparently only three restaurants in the world that spell chilaquiles with the funky K: A trendy eatery in Playa del Carmen on the Mayan Riviera; a street-food stand in Mexico City; and this sweet new eatery in a short strip of shops on National Turnpike, just a block or two out from South Side Drive.
Chilaquiles a.k.a. chilakiles are a classic Mexican breakfast treat, fried eggs perched on cut-up fried tortillas and topped with spicy salsas. Chilakiles, the restaurant, offers a breakfast-heavy menu too, although you'll also find plenty of lunch and dinner options available throughout its service hours from 7 a.m. to 10 p.m. There are speciality drinks including margaritas to wash them down, a mission that Chilakiles apparently inherits from its predecessor in the space, an all-day Latino bar called Margarita's.
The room is quite large and striking in appearance, with bold red walls the hue of watermelon aqua fresca. Heavy wood tables painted glossy black are set with simple black and orange diner chairs, with a long bar stretching around a back corner.
The breakfast and brunch menu offers sixteen morning-friendly entrees, ranging in price from $7 (for egg-topped tortilla entomotadas or egg and black-bean enfrijoladas) to $15.50 (for spicy pepper-and-onion-topped steak Oaxaqueño, reflecting the owners' roots in Oaxaca in Southern Mexico). ...
Read the full review on LouisvilleHotBytes,
http://www.louisvillehotbytes.com/chila ... -breakfast
You'll also find this review in LEO Weekly's Food & Drink section today.
http://www.leoweekly.com/category/food-drink/
Chilakiles Restaurant
5600 National Turnpike
632-2000
chilakilesrestaurantlouisville.com
facebook.com/chilakilesmexicanrestaurant
Robin Garr's rating:
85 points
Noise level:
It was a quiet scene with few tables occupied during a late lunch; try it again on a busy weekend night and you may find it louder.. (Average sound level 65dB.)
Accessibility:
The entrance is accessible to wheelchair users, but the men's restroom is not equipped for disabled patrons, and the grab bars in the women's room are placed too high to reach.