Tacos surpass pizza as Taco City and Taco Choza arrive
LEO's Eats with Robin Garr
A carnitas taco at Taco Choza.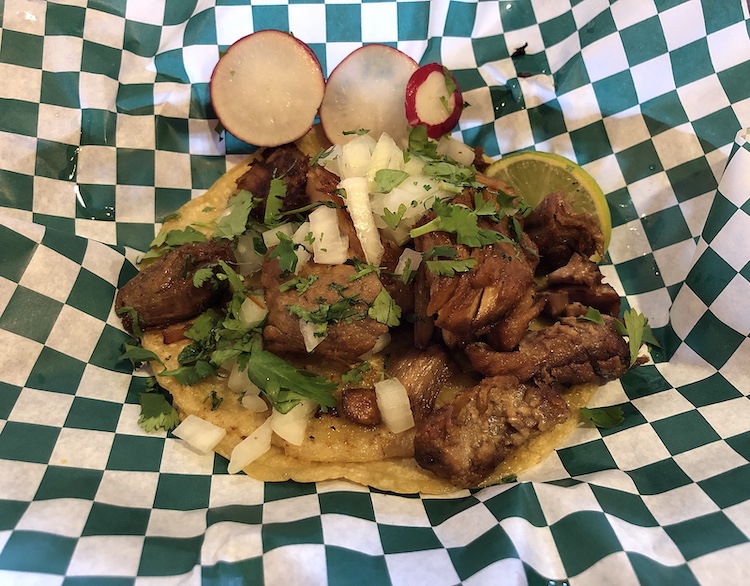 Some time during recent months, pushed by the arrival of the excellent taquerias Taco City in the Highlands and Taco Choza in St. Matthews, the metro area quietly, without any publicity, achieved full taco.
What's that, you ask? Simple. The numbers are a little vague, but by my best count, hungry Louisvillians now have at least 65 locally owned, independent places to buy tacos, surpassing the roughly 60-plus local pizzerias.
Given all the cranky jokes about this being a city with a pizzeria on every corner, this is no small achievement.
We tried both Taco Choza and Taco City this week, and I'm happy to report that both are worthy.
Taco City opened in mid-September in an old house that had formerly been quarters to a women's clothing store. Its large front deck was not in use on this chilly winter day, but it was warm and welcoming inside. ...
A quick lunch at Taco Choza (which can be translated as Taco Shack or Taco Hut) revealed another fine taco stop, this one handily located amid the St. Matthews nightlife zone. Opened just one month ago, it fills the space left by the departure of Ville Taqueria, retaining the same chef under a new owner. ...
Read the full review on LouisvilleHotBytes,
http://www.louisvillehotbytes.com/taco-city-taco-choza
You'll also find this review in LEO Weekly's Food & Drink section today.
http://www.leoweekly.com/category/food-drink/
Taco City Louisville
1283 Bardstown Road
409-9454
Facebook:
http://bit.ly/TacoCityLou
Robin Garr's rating:
90 points
Noise level:
The sound level was building up but manageable late on a Saturday afternoon with a soccer game on TV in the front room; we could converse easily at a table in the back. (Average sound level 74dB.)
Accessibility:
This old Highlands house has been capably made accessible to wheelchair users with a ramp in front providing the primary access for all, and access modifications in the rest rooms.
Taco Choza
3922 Westport Road
409-5080
http://tacochozalouisville.com
http://bit.ly/TacoChoza
Robin Garr's rating:
87 points
Noise level:
A moderate crowd kept up a happy buzz, but never interfered with conversation. (Average sound level 76dB, with peaks to 83.)
Accessibility:
The entrance and restrooms pose no barriers to wheelchair users, but utensils and salsa dispensers might be difficult to reach.