Ramen Inochi offers a fine, warming noodle bowl
LEO's Eats with Robin Garr
Ramen Inochi's spicy veggie miso ramen is fiery and delicious, especially with an added order of kimchi.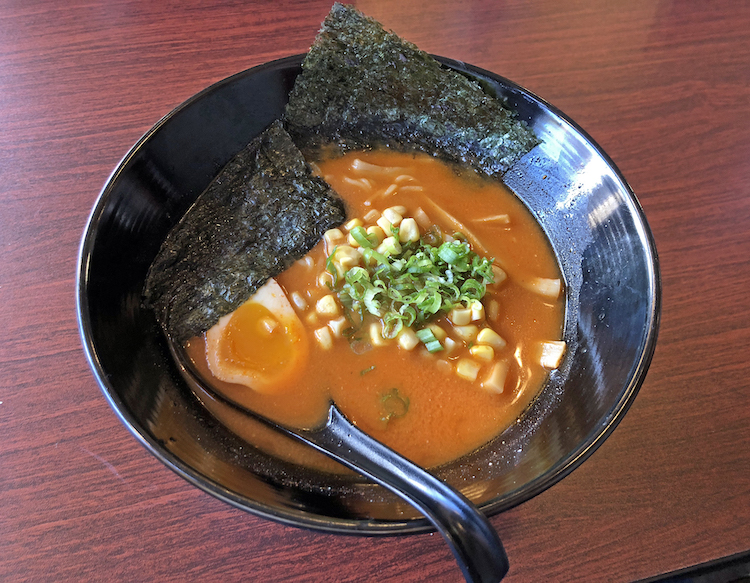 Thoughts upon dining at the amiable new Ramen Inochi, latest in the city's growing circle of Asian soup eateries: If you're ever in the mood to start a foodie fight, ask your friends whether ramen or pho is better. I tried this on Facebook and Twitter the other day and had three dozen arguments going by lunch.
But you don't have to be a social media troll to love these traditional Asian soups, and Louisville clearly knows this. In the past few years we've seen a mini-tsunami of restaurants that specialize in these memorable soups.
So what's the difference between ramen and pho, anyway? You might have a hard time guessing which is in your bowl if the server didn't tell you. You get a big bowl of steaming rich broth, noodles, and interesting add-ins. But you can count on a few near-certainties. Pho has tender white rice noodles. Ramen has squiggly, jiggly but firm wheat noodles. Pho broth is usually clear, often scented with star anise and cinnamon. Ramen broth involves long simmering with beef or bones, and comes in five or six traditional styles.
Your pho will usually have thin-sliced meat, poultry or tofu resting on the noodles; more goodies, including leafy herbs bean sprouts, and hot sauce, come alongside. Your ramen bowl, conversely, has all the goodies built in: You'll probably get thick chunks of meat or tofu, a halved egg, and seaweed, veggies and corn.
We checked out Ramen Inochi the other day and found owners Jonathan Chiu (whose Hong Kong-born parents own Oriental House) and Jonathan Ham turning out fine bowls of ramen and more. Completing a sort of ramen circle, it's located in the small Highlands storefront that once housed Rumplings, the eatery that kicked off Louisville's love affair with serious ramen.
If you remember Rumplings, though, you'll hardly recognize this stylishly renovated space. ...
Read the full review on LouisvilleHotBytes,
http://www.louisvillehotbytes.com/ramen ... -fine-bowl
You'll also find this review in LEO Weekly's Food & Drink section today.
http://www.leoweekly.com/category/food-drink/
Ramen Inochi
2009 Highland Ave.
785-4199
https://facebook.com/RamenInochiLouisville
https://instagram.com/RamenInochiLouisville
Robin Garr's rating:
88 points
Noise level:
The sound level rises when a loud song comes on and bounces off the hard edges in the small room, but the music is good. Most selections were more moderate in volume, so we could talk easily. (Average sound level 78dB, in a broad range from 68-83 dB)
Accessibility:
A single, short step at the front door is still a barrier to wheelchair users.