Brunch at Le Moo starts our day right
LEO's Eats with Robin Garr
Not Just for Crazy People, the egg-topped breakfast burger at Le Moo.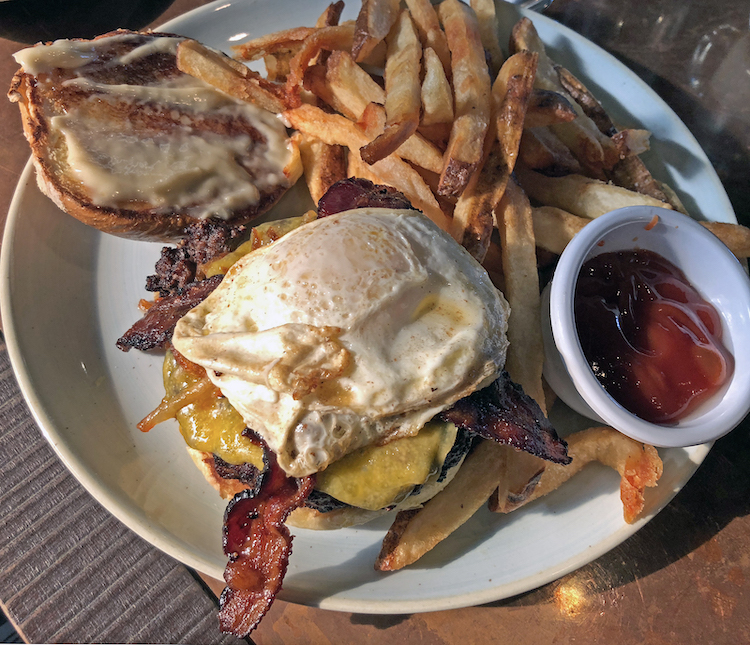 Le Moo just celebrated its third anniversary – its grand opening happened on Sept. 19, 2015 – and if it's not your favorite steakhouse by now, it surely makes that grade with a lot of people. Ask for the best steak in town, and Le Moo will certainly be in the conversation along with a handful of other popular local and high-end corporate eateries.
What's more, within six months of its opening, Food Network declared this Lexington Road landmark not merely Louisville's best, but one of the 28 best spots for steak all across the nation. You could look it up.
But we're not here to talk about steak dinners today. On the contrary, I recently noticed, belatedly, that Le Moo offers a daily brunch. Yes, I said daily brunch: Le Moo's expansive brunch menu is available every day of the week from 10 a.m.-3 p.m. Why wait? My sister Amy joined Mary and me for a brunch expedition that filled us with good food and happy hearts.
The oversize brunch menu contains some three dozen choices, so bountiful that even the starters, salads and side dishes appear more than sufficient to fill you up. Prices will look a bit spendy if your point of comparison is McDonald's or Denny's, but trust me, you'll be much happier here.
The main portion of the menu is titled "I hate bacon, said no one ever." Did I mention that Le Moo is quirky? The dishes are all named, too, with monikers that range from amusing to grin-provoking peculiar. Prices in this menu sector range from $12 (for the "You're Bad, El Chapo" breakfast burrito or "Myra Stole It From Her Mom" biscuits and sausage gravy), to $22 (for "Love, Love Me Do" for eggs with potatoes and chorizo. This does not count an impressive outlier, also the only steak dish on the breakfast menu: $39 for "Oh No She Didn't," eggs Benedict made with an 8-ounce filet in place of the usual Canadian bacon. ...
Read the full review on LouisvilleHotBytes,
http://www.louisvillehotbytes.com/brunch-le-moo
You'll also find this review in LEO Weekly's Food & Drink section today.
http://www.leoweekly.com/category/food-drink/
Brunch at Le Moo
2300 Lexington Road
458-8888
http://lemoorestaurant.com
https://facebook.com/LeMooLou
https://instagram.com/lemoolou
Robin Garr's rating:
87 points
Noise level:
The sound built up as a small brunch crowd moved toward a larger lunch group, but we never had a problem hearing each other at a table adjacent to the bar. (Average sound level 65-71 dB, with peaks to 79 dB)
Accessibility:
The building and much of the dining area is accessible to wheelchair users, although the big front doors are heavy; our route to a table by the bar took us up two steps.