Couvillion is tres bon, I garontee.
LEO's Eats with Robin Garr
Couvillion's namesake catfish couvillion.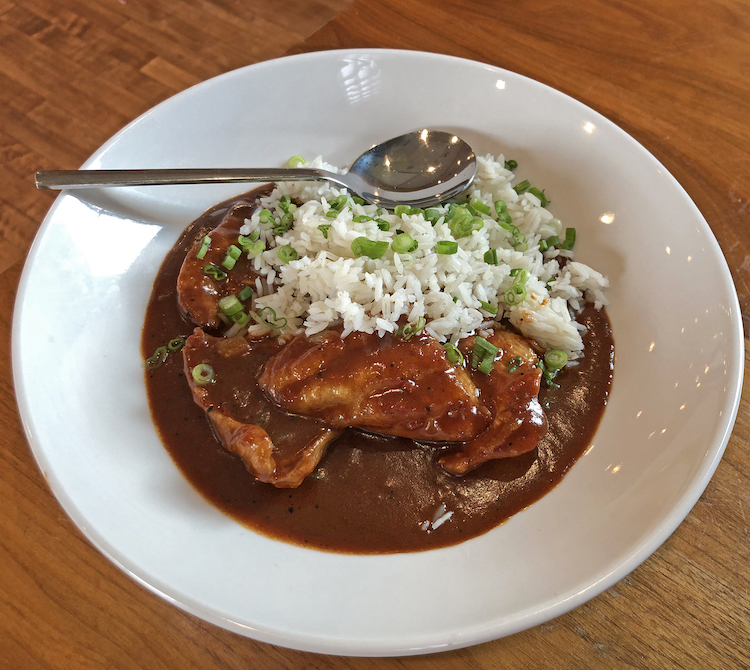 I really like Couvillion. I like the Cajun-country catfish dish, and I like the new Germantown restaurant. I can hardly wait to tell you about this. But first: What the hell is a Couvillion, and how do you even say it?
Okay, then. Couvillion ("
coo-vee-ohn
") is a delicious Cajun fish stew made with a rich, thick roux, usually built on catfish and served with rice. It's a Cajun variation on the French
court-bouillon
("
koor-boo-yawn
"), which is a thin fish sauce that's arguably more refined but probably not as tasty or filling.
Couvillion the restaurant, pronounced just the same way, occupies the stylish art-deco building just off Goss Avenue that previously housed Finn's Southern Kitchen. Owner and Chef Paul Skulas came over from Portage House to open the new spot. And couvillion is a signature dish on the Couvillion menu.
But we're getting ahead of ourselves. Let's back up and take a look at the charming building, originally the office for the adjacent 1880s-era Louisville Cotton Mill buildings, long a popular antique mall now reborn as the Germantown Mill Lofts condos.
Finn's had thoroughly renovated the facility, but Couvillion spent two months kicking the style up another notch. Blond wood sections contrast with pretty blue-gray walls, highlighted by local artist Whitney Carpenter's bold outsider art. Sturdy wood tables, heavy wood-and-metal chairs (with flat, hard seats) and wooden floors build a hard-edged environment that can amplify a happy roar.
A short but thoughtful drinks selection that makes up for brevity with interesting selections. I couldn't resist a Roots'n'Boots cocktail ($8), a savory mix of dark rum with cane syrup and a shot of root beer, its rich flavors nicely heightened by a couple of chunks of star anise marinating in the drink. Mary, intrigued by the presence of Ale-8-One ($2.25) on the menu, ordered her first can ever and gave thumbs-up to its sweet ginger-ale flavor.
The menu picks up the Southern theme that's been all too prevalent in this not-so-Southern burg in recent years, but to its credit, it focuses not on the Confederate South but the Cajun and Creole flavors of New Orleans and Acadiana, Cajun country. ...
Read the full review on LouisvilleHotBytes,
http://www.louisvillehotbytes.com/couvi ... n-garontee
You'll also find this review in LEO Weekly's Food & Drink section today.
http://www.leoweekly.com/category/food-drink/
Couvillion
1318 McHenry St.
365-1813
http://eatcouvillion.com
https://facebook.com/eatCouvillion
https://instagram.com/eatcouvillion
Robin Garr's rating:
93 points
Noise level:
Conversation is easy until a louder blues ballad comes over the sound system. We didn't mind that. (Average sound level 71-76 dB, with bounces to 84.)
Accessibility:
The historic building's main entrance is barred to wheelchair users and others with limited mobility by a series of steps. Access is possible via an unmarked side entrance.