Naïve's sustainable ethos yields delicious fare
LEO's Eats with Robin Garr
Naïve's Israeli chickpea tagine is topped with lamb kofta.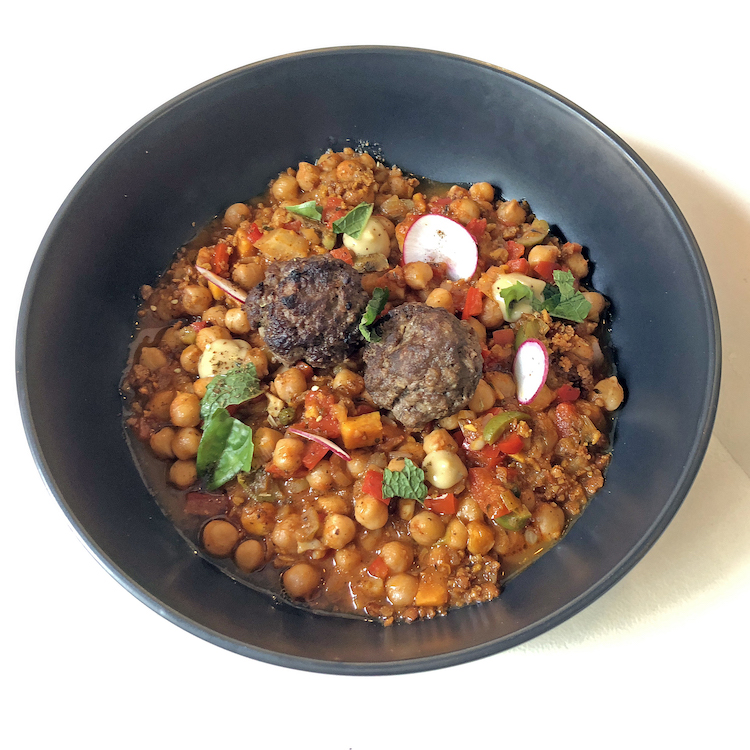 It is so tempting to start with a joke about a restaurant named Naïve that I'm just going to resist temptation and not even go there. Seriously, the ethos behind the name of this charming new spot on the edge of Butchertown is so sweet that it deserves to stand on its own:
"We see the world as a place of hope," Naïve's owners write on the restaurant website. "Maybe that's naive. But maybe it's one of our greatest strengths. Because we're not afraid to think big, with no preconceived notions. With a connection to what's real, from the food we eat to the relationships we nourish."
It's hard to miss Naïve's gray brick building: Tucked into the angle at the corner of Wenzel and Washington streets, its angular footprint resembles a tiny Flatiron building.
The owners, husband-and-wife team of Catherine Mac Dowall and Michael Kerrigan, spent much of the fall and winter converting the property, once residential, into a sleek, stylish restaurant and bar space. The dining room's high ceilings and big front windows admit plenty of light to further brighten the glossy white colors and flotilla of hanging lamps that fill the open space. A wacky variety of seating includes everything from backless stools to comfy padded chairs and a tall-backed banquette, and from sturdy wooden tables to tiny, triangular bar tables.
There are a lot of vegetarian, vegan, and gluten-free dishes on a bill of fare that's labeled "fast-casual, plant-based, focused on a vegetarian lifestyle, with meat options, and some healthy indulgences, too," so carnivores can choose sustainable and organic meat and seafood dishes.
The menu is at least three-fourths local and organic, the owners say. ...
Read the full review on LouisvilleHotBytes,
http://www.louisvillehotbytes.com/naive ... -delicious
You'll also find this review in LEO Weekly's Food & Drink section today.
http://www.leoweekly.com/category/food-drink/
Naïve
1001 E Washington St.
749-7856
http://eatnaive.com
https://facebook.com/eatnaive
Robin Garr's rating:
89 points
Noise level:
Hard edges and a talkative crowd make for a shrill environment that can hamper conversation at its peaks. (Average sound level 74-82 dB, with occasional spikes to 91 when someone forgets their indoor voice.)
Accessibility:
Difficult for wheelchair users. A single step bars the front door. A level entrance at the rear is hampered by materials stored inside and a long sidewalk route to the doorway.