You'll eat fake meat and like it at Morels Cafe
LEO's Eats with Robin Garr
The Farby meal at Morels Cafe.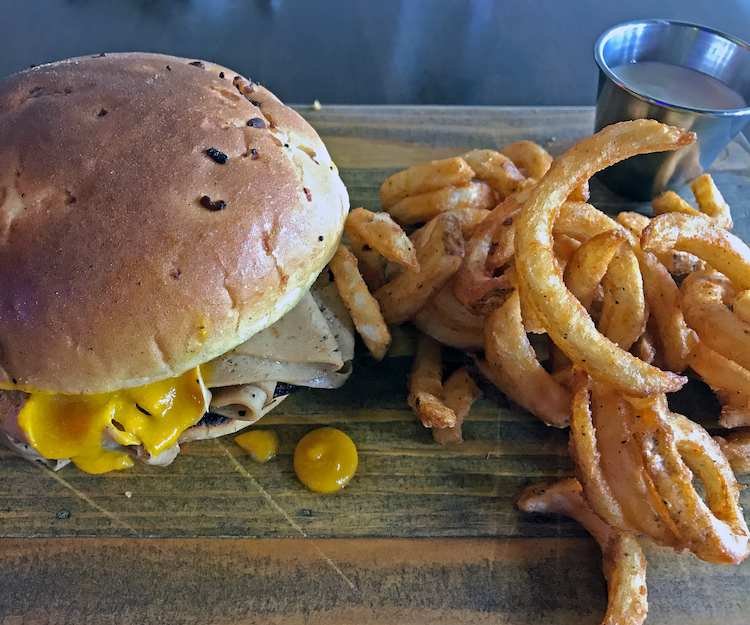 There's this funny thing about plant-based meat analogues, a.k.a. fake meat: Hard-core carnivores and hard-core vegans all seem to get downright angry when they catch someone eating fake bacon, veggie burgers, or even amazing meat-free goodies like those on the menu at Morels Cafe.
I really can't figure this out. The aversion, maybe, but why the hate? The best I can figure it, serious veggievores loathe the idea of dining on tasty animals with such passion that they're grossed out by the idea of even eating pretend meat. Perhaps they figure that if they could go cold pardon-the-expression turkey, so should everyone else. It's sort of like reformed-smokers hating on e-cigs.
I have an even harder time with meat eaters who get so angry about faux meats. Why in Buddha's name should they care? Fine, they'll never give up meat, in spite of all the evidence surrounding its issues with health, humaneness and the environment. But why should they get into a frothing rage about people who abandon cow meat but still harbor a crave for something that looks and tastes like the real thing without any animals being harmed in the process? To them I gently suggest, "Mind your own bidniss, please."
Or better yet, put your prejudices on the shelf just long enough to try the animal-free delights at Morels, Stanley Chase III's new bricks-and-mortar vegan deli and cafe in the middle of the Baxter Avenue strip, a cheeky meat-free eatery that declares its fare "vegan food that doesn't suck."
If your vision of vegan food is something like plain tofu, un-dressed lettuce and a portobello mushroom, prepare for a recalibration. This is vegan as you've never seen or tasted vegan.
Consider for example the Egg McBluffin ($4.99), a deli-counter delight that looks a lot like you-know-who's: A standard English muffin is filled with a sausage patty, an egg, molten yellow cheese and a schmear of mayo. If you think those meat and dairy things don't sound vegan, you'd be right. But this version uses house-made, soy-based vegan sausage, Follow Your Heart brand vegan egg and cheese, and Hampton Creek's first-rate egg-free Just Mayo.
Or consider Chase's trademark Farby -Fake Arby - a fine vegan knockoff of Arby's roast-beef original. The $9 Farby Meal piles braised Tofurky roast "beef" on an excellent onion bun, house-made yellow "cheese," and dairy-free ranch dressing. Set it up with a pile of crisp curly fries and a cup of vegan horseradish sauce, and you'd think you were dining at Arby's, except that this model tastes really good. ...
Read the full review on LouisvilleHotBytes,
http://www.louisvillehotbytes.com/youll ... orels-cafe
Read this review also in LEO Weekly today.
https://www.leoweekly.com/2017/07/youll ... ke-morels/
Morels Cafe
619 Baxter Ave.
409-5916
http://www.morelscafe.com
https://facebook.com/morelscafe
Robin Garr's rating: 90 points
Pork sliders without pork at Morels Cafe.