How hot?

That

hot. They'll tell you no lies at A Taste of Thai
LEO's Eats with Robin Garr
Pad Thai at A Taste of Thai in Crestwood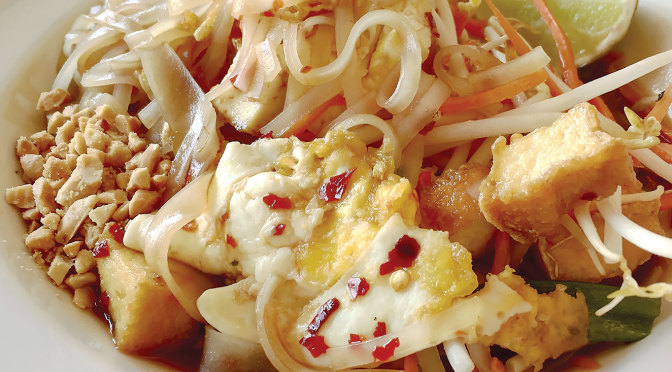 "How hot do you want your
Pad Thai
?"
This can be a leading question in any Asian eatery where some of the dishes have the capability to scorch your palate. I raised an eyebrow, seeking more information.
"Scale of one to four," our friendly server added, neglecting to mention the "zero" possibility. More about that later.
Mmm. Now I faced a dilemma. I like my spicy dishes hot, but I'm not insane. Nor am I a masochist. I know that "Thai for Thai people" is too hot for me, but I get irritable when I summon hot but am given a toned-down dish because management assumes that Westerners have puny palates. Let's shoot for the middle ground: "Three, please."
The guy pushed back. "Three is pretty hot," he warned. "Are you sure?" This challenged my macho, so what could I say? "Sure! Bring it!"
It turns out that the good folks at A Taste of Thai don't lie. This
Pad Thai
ranked among the hottest dishes I've had around town in the last few years. It was good, though, really good. It was hot enough to numb my lips and break out a good sweat on my brow, but not hot enough to make me think about calling 911 later in the day. (That's a feat that only the chipotle grilled cheese at Toast on Market in New Albany has accomplished in recent memory.)
In fact, over all, I'd rank A Taste of Thai among the metro's top Thai spots. This recent arrival in Crestwood in Oldham County is well worth the trip out from the city, especially now that it has added evening hours. It's now open 11 a.m.-3 p.m. and 5-8 p.m. daily except Sundays.
It's hard to miss, even if you're not familiar with the area: Its free-standing building on Kentucky Highway 22, in front of the Walgreen's right in the middle of Crestwood's mini-downtown, is a bright, eye-catching reddish-orange. ...
Read the full review on LouisvilleHotBytes,
http://www.louisvillehotbytes.com/?p=5549
See this column also in LEO Weekly:
http://www.leoweekly.com/2016/04/how-ho ... e-of-thai/
A Taste of Thai
6549 W. Highway 22
Crestwood, Ky.
365-1809
https://www.facebook.com/A-Taste-of-Tha ... 5346622096
(updated!)
Robin Garr's rating: 89 points