Food Network loves The Coach Lamp, but who loves Food Network?
LEO's Eats with Robin Garr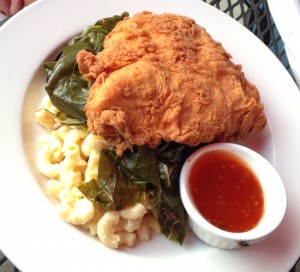 Okay, I am just going to come right out and say it: I am
so
over Food Network. Have been for years, really. She's like an old flame, full of bad memories of a romance that I try to suppress now that I'm no longer quite so young and stupid.
Oh, I loved her back then, I truly did. It was late coming to Louisville, and I lusted after it in my heart when I read my friends' stories online about her seductive wiles. And when she finally came to town, sometime around the turn of the millennium, as I recall, I was smitten, so smitten.
I would watch for hours, lapping up food-geek goodies from a cable channel that seemed designed for cable's original purpose: "Narrowcasting," sending gallons of goodies down a narrow pipe to a small audience for whom it was specifically designed. But that was then, and this is now, and Food Network left me long ago. It dropped the wrinkled old faces and started going with the pretty faces, and they didn't seem to care if the pretty faces could cook. I quit watching. Then I dropped the cable.

But my cable heartburn doesn't mean I'm not happy that Louisville's Coach Lamp restaurant and the Darling family, its affable family proprietors, are winning a few moments of Food Network fame. 

If you've been conscious, you probably know that Food Network Chef Robert Irvine came to Coach Lamp this past summer with his "Restaurant: Impossible," declared the victim eatery one of America's "most desperate restaurants," on the cusp of failure. Irvine rounds up a team of volunteers, musters a $10,000 budget, and gets busy trying to turn the business around.
Irvine's effort here involved a lot of clean-up, paint-up, fix-up, a new menu, and perhaps most significant, a shady, comfortable new patio, which they've dubbed Brooke Billy's Back Patio, apparently as part of the re-branding.
They'll unveil all this on Food Network on Wednesday, Nov. 6. I'll be curious to see if any further news comes out then.
Meanwhile, my pal Dana, also a local food writer, and her husband Brian joined me the other night to check it out. Dana, who'd been by after Irvine's "big reveal" in August, said she didn't want to say anything to influence my opinion, but I couldn't help noticing the eye roll.
Me, I've always liked Coach Lamp and couldn't scent the stench of failure myself. Its historic 19th century store building is lovable; its bar is neighborly and inviting, its dining room casually upscale. I liked it when Chef Jerome Pope was in the kitchen, and I liked it, more recently, when Katrina blew Chef Richard Lowe in from New Orleans with his Creole cuisine.
Sure, it's a bit off the radar - just a little too far from the Baxter-Bardstown strip, not NuLu, not Germantown. But that's not a problem that Irvine can fix. But its combination of good food and good mood seems to keep people coming in. So what's with this "most desperate restaurant" thing? Seems kind of needy, Bill! ...
Read the full review on LouisvilleHotBytes,
http://www.louisvillehotbytes.com/food- ... od-network
And in LEO Weekly:
http://leoweekly.com/dining/has-food-ne ... coach-lamp
Coach Lamp Restaurant & Pub
751 Vine St.
583-9165
http://www.coachlamprestaurant.com
http://www.facebook.com/CoachLampRestaurant
Robin Garr's rating: 78 points