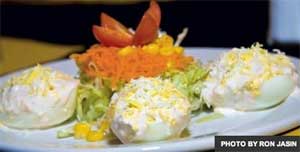 LEO's Eats with Louisville HotBytes.com
(
La Catalana, Cocos Lokos
)
Adding more options to Louisville's growing ethnic-eats scene, two interesting restaurants have opened in recent weeks, offering dishes that your mother never made at home ... unless your mother came from the Caribbean or Barcelona.
Cocos Lokos ("Crazy Coconut") has been open for a few weeks in the Hunnington Place shopping center near I-64 at Hurstbourne. Started by former employees of Havana Rumba, it offers Cuban cuisine accented with a few dishes from around the Caribbean.
La Catalana ("The Catalan Woman") opened last week in the short St. Matthews strip center that also houses Havana Rumba and Del Frisco's, just behind … wait for it … where the old Sears store used to be. It's Louisville's first restaurant featuring the Catalan fare of Barcelona, Spain, plus a selection of dishes from around the Mediterranean.
Both spots are still too new for full-length reviews and formal ratings, but in quick stops for lunch recently, both impressed me. I enjoyed interesting and well-prepared dishes, competent and friendly service, and distinctive moods.
Read the complete report on
LouisvilleHotBytes.com
.
I can't seem to get to the LEOWeekly.com website right now. I'll add the link when I can go there.
La Catalana Mediterranean Cuisine
4123 Oechsli Ave.
895-8882
Cocos Lokos Caribbean Cuisine
1850 S. Hurstbourne Pkwy, Suite 164
365-1777