We pick a plate of pickle pizza at Craft House
Behold, Craft House Pizza's spicy pickle pizza! It's no longer listed on the menu, but our friendly server had no problem summoning one for me.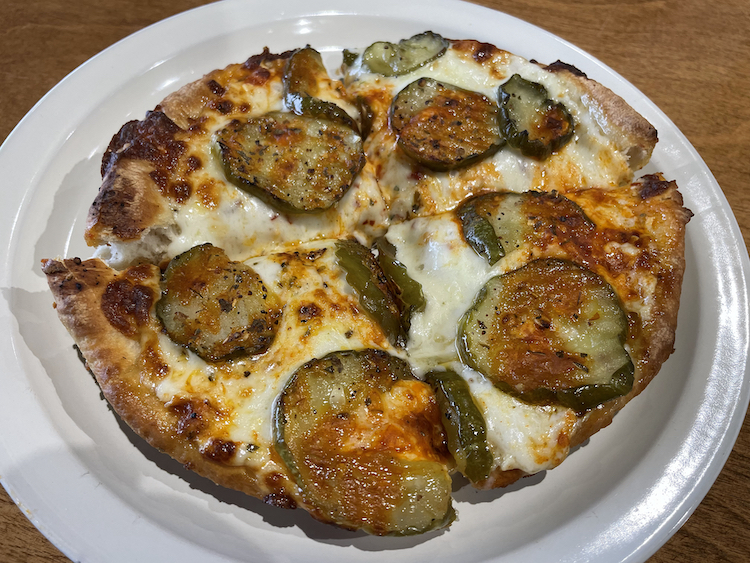 I'm sure I've confessed this before: I'm a pizza snob. I learned pizza in New. York City, with graduate studies in Italy, and I want my pizza authentic, artisanal, and made according to tradition. Pineapple pizza? Harrumph! I'm not even comfortable with jalapeños or broccoli on my pie.
But then I spotted a pickle pizza with Pop's Pepper Patch Spicy Habagardil pickles on top. Hey, now! A strange yet irresistible call lured me out to Craft House Pizza's new shop on Hurstbourne Parkway. I need this in my life!
So I got my pickle pizza, and it made me happy. But it was a close call: I saw it on the Craft House website, but when I got to the eatery, it had disappeared from the printed menu, d'oh! I asked our friendly server about this, and she was able to make one happen. "It's still in the system," she said.
If you're intrigued too, you'd better head for Craft House sooner rather than later, or even call ahead. I can't guarantee its survival, although with enough demand, who knows!
What's a Craft House? Listen up, as this is somewhat complicated. It's a five-unit chain (four in suburban Louisville, one in Lawrenceburg, Ky.) that split from the larger local Hometown Pizza family in 2021. The new outfit joined with the owner's Hometown Brewing Company to form a one-stop shop for artisanal-style pizza and microbrewery suds. (It doesn't appear to be connected with the short-lived Craft House in Crescent Hill, which earlier gave way to Parlour pizza. Whew!)
Whatever the back story, we dropped in to the brand-new Hurstbourne location – which opened last month – and found the pizza satisfying, the beer tasty, and the menu's pizza array bolstered by a selection of other Italian-American standards. ...
Read the full review on LouisvilleHotBytes,
https://www.louisvillehotbytes.com/pick ... raft-house
You'll also find this review in LEO Weekly's Food & Drink section later today:
http://www.leoweekly.com/category/food-drink/
Craft House Pizza
2813 N. Hurstbourne Pkwy.
861-1012
https://crafthousepizza.com
https://facebook.com/crafthousepizza
Noise Level:
It was a busy, noisy place on a Saturday afternoon, with decibel levels running at an average 76dB and spiking to a conversation-blocking 86.5 db.
Accessibility:
 The shopping center space and the restrooms appear fully accessible to wheelchair users, but some seating is in booths.
Other locations:
Preston Highway, Jeffersontown, Fern Creek, and Lawrenceburg, Ky.