Anoosh Bistro delights as always
A steak with a Peruvian accent, lomo saltado is a beefy appetizer (topped with crisp fries and zippy red peppers) big enough to serve as a main dish.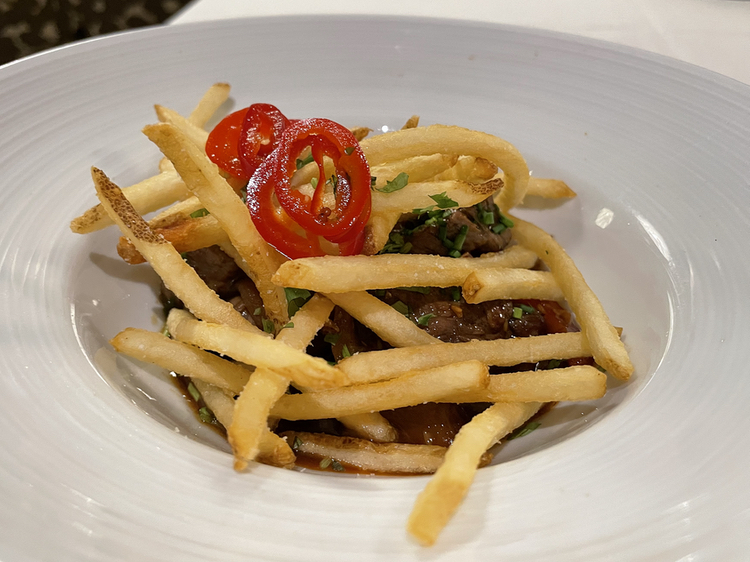 Between the budget impact of the pandemic and the time most of us spent hiding in our houses, I haven't been to many fancy, upscale restaurants lately.
Did I say "Lately"? Let's say I might have had one, maybe two, pricey dinners out since March 2020! I imagine a lot of you are in a similar place.
But sooner or later, it's time to dine. And so, to celebrate my birthday last month, we dressed up and headed out to Anoosh Bistro.
It was an easy choice. Anoosh Bistro ranks among my top restaurants in Louisville. I've been following Chef Anoosh Shariat for 30 years and more, from Remington's, his initial venture that opened in the late 1980's on Hurstbourne Parkway, through 10 years at his namesake Shariat's on Lower Brownsboro Road; a venture at Park Place and Browning's in then-new Slugger Field, and now, finally, his first-name namesake Anoosh Bistro on US Highway 42. (He recently sold the Bistro's more casual neighbor, Noosh Nosh, in a bid to cut back.)
Throughout that tenure, Shariat has made friends and earned respect for his kindness, his gentle demeanor, and his deft chef's hand, a kitchen leader who's known for skills that run from baby lamb to vegetarian dishes.
I've got a couple more high-end spots on my want list, but Anoosh Bistro was the place to begin. It did not disappoint, as it never has for me, from its look and feel to, of course, the food. ...
Read the full review on LouisvilleHotBytes,
https://www.louisvillehotbytes.com/anoo ... o-delights
You'll also find this review in LEO Weekly's Food & Drink section:
https://www.leoweekly.com/2023/05/anoos ... as-always/
Anoosh Bistro
4864 Brownsboro Center
690-6585
https://anooshbistro.com
https://facebook.com/Anooshbistro
https://instagram.com/anooshbistro
Noise Level:
Conversation became iffy as the dining room filled on a busy weekend evening, The average dB level rumbled at a noisy 76.2dB with peaks at an ear-shattering 88.5dB.
Accessibility:
 The building and restrooms appear accessible to wheelchair users, but only the left entrance door has ramped access.