We anticipate Taco Week at Gustavo's
Birria is like a turbo-powered taco. Gustavo's tasty version is made with long-marinated and simmered Angus beef, chiles, and spices packed into marinated crisp corn tortillas to maximize its flavor.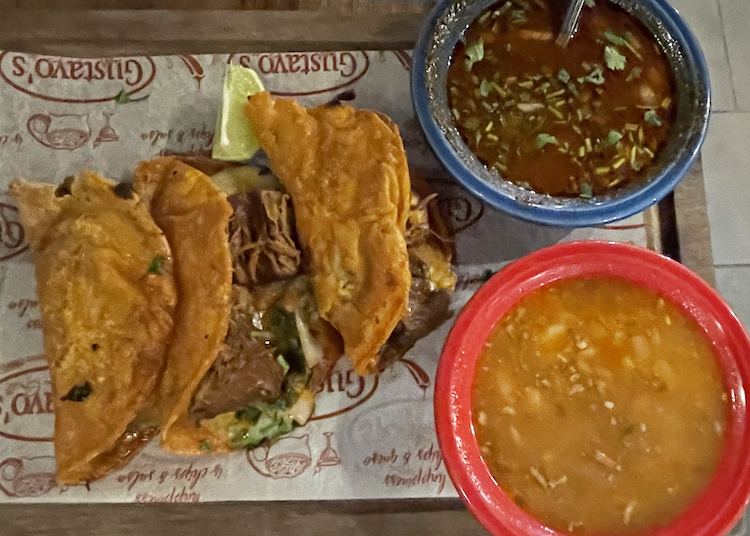 I hope everyone enjoyed Louisville Taco Week last week and ate your fill. There's a lot to like about a promotion that brings you tacos for $2.50 a plate at close to 20 local Mexican-style eateries!
I had big plans, but peaked too soon. All the advance advertising gave me such a powerful taco crave that I rushed out to Gustavo's Mexican Grill and ate my fill a week before the event.
It was worth it.
If you missed out, it'll be around again next year, I'm sure. And similar promotions abound, including Louisville Burger Week, Louisville Hot Brown Week, Louisville Pizza Week, Louisville Restaurant Week, Margaritas in the 'Ville, and Louisville Wing Week.
They're all worthy, and I hope you enjoy them. We're here to talk about tacos and more Mexican culinary delights today, though, and Gustavo's does them very, very well.
Like several other local Mexican restaurant groups – Los Aztecas, El Nopal, and El Tarasco come to mind – Gustavo's is the product of an entrepreneurial immigrant from South of the Border. Gustavo's owner and namesake, Gustavo Reyes, has built a popular business with a bilingual menu, friendly servers, and Latin-accented food that pleases just about everyone.
We tried the most recent shop in the group, Gustavo's Hurstbourne property, which opened about a year ago in the much-renovated and spacious 300-plus seat venue vacated by a Romano's Macaroni Grill.
The colorful eight-page laminated menu offers more than 150 options across its eight pages. Dishes are clearly explained in English, so don't fret if you don't know what queso fundido means … you can learn right on the spot that it's a cheese dip made with Mexican Chihuahua cheese. ...
Read the full review on LouisvilleHotBytes,
https://www.louisvillehotbytes.com/taco-gustavos
You'll also find this review in LEO Weekly's Food & Drink section later today:
http://www.leoweekly.com/category/food-drink/
Gustavo's Mexican Grill
401 S Hurstbourne Pkwy.
420-1100
https://gustavosmexgrill.com
https://facebook.com/gustavoshursbourne
https://instagram.com/gustavosmexgrill
Noise Level:
There was plenty of buzz during a busy lunch hour, but conversation was never difficult.
Accessibility:
 The free-standing building appears accessible to wheelchair users. Much of the seating is booths, but there are plenty of tables that would accommodate wheelchair users.
Other locations:
6051 Timber Ridge Drive, 434-7266; 10715 Meeting St., 690-7070, 6402 Westwind Way, Crestwood, Ky, 243-6950; and 1226 Market St., LaGrange, Ky, 222-4050.