Feed Louisville: Chefs fighting houselessness
Feed Louisville's executive director and co-founder Rhona Bowles Kamar oversees a very active morning at work in Feed Louisville's kitchen at Douglass Boulevard Christian Church.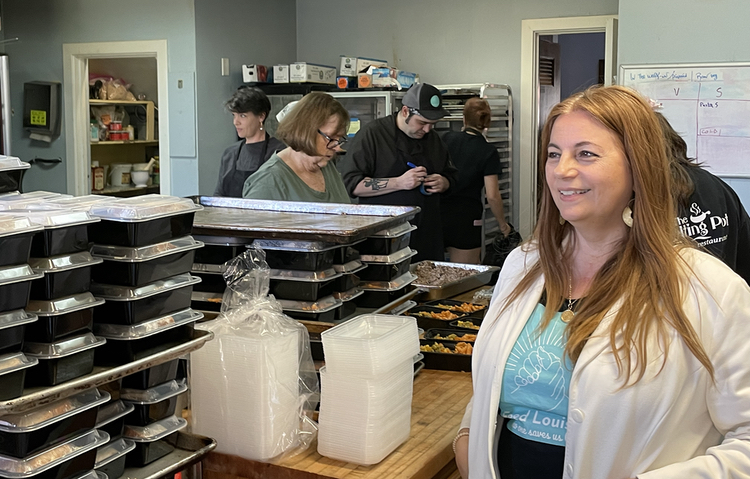 Early in 2020, Chef Rhona Bowles Kamar was trying to figure out what she wanted to do in life. Recently divorced, and out of the job she'd done as co-owner and chef at Ramsi's Cafe on the World for 25 years, she was doing some catering and wondering what to do next.
Then came Covid-19. Restaurants were closed, the catering business cratered, and in a random encounter she met Donny Greene, a local activist who works in solidarity with Louisville's houseless community.
Greene, who had been working for years to distribute food, snacks, and supplies to the city's houseless camps, told Kamar that the pandemic was causing a crisis for unhoused people. With restaurants closed, caterers struggling, and even church soup kitchens shuttered, his usual sources of food donation were gone.
That lit a spark, and just like that, the two of them assembled a few friends at other restaurants; gathered donations, and – mostly working in separate spaces in those early, scary days of contagion – started cranking out meals in individual boxes for Green, his family, and others to get to hungry unhoused people all over town.
"We thought it was going to be temporary"
"We thought it was going to be temporary," Kamar said with a laugh. "Something we would do for a couple of weeks."
Hardly. Three years later, these co-founders, with Greene's wife Camila Jasis-Greene, operate
Feed Louisville,
a non-profit organization with a staff of 35, a corps of hundreds of volunteers, and a budget approaching $500,000 this year.
Feed Louisville works with partners ranging from local restaurants and Louisville's Dare to Care Food bank to city government, Metro Public Health, and Douglass Boulevard Christian Church, which provides kitchen and storage space.
The organization is building an impressive record with a mission that involves not only feeding 1,000 unhoused people every day but also building effective strategies to safely, kindly help many of them transition back into housing and a better life.
Quoting the organization's website, "The work started with a conversation and has grown into a network of chefs, restaurants, food companies, farmers, outreach workers, social workers and countless volunteers who work together daily to stop this humanitarian crisis happening in our city."
Feed Louisville meets our houseless community's daily basic human needs while working to remove the barriers to housing, the non-profit explains in its promotional materials.
Meeting people where they are
"We meet people where they are. This is key to building trust and fostering stability. We take care of hunger and other emergency needs first, no questions asked, and then we work to move folks toward permanent housing. Our model is built around three key components: street outreach, food rescue, and housing navigation."
The street outreach component focuses on harm reduction and building trust as its heart. Every day, workers bring our houseless neighbors water and 1,000 hot, fresh, nutritious meals created by its team of shelves. They also provide critical outdoor survival supplies like tents, sleeping bags, sternos and clothing.
These supplies and arranging medical care helps save lives and deter disease, while the group's social workers meet people where they are and seek to build relationships that can lead them back toward permanent housing. "You'd be surprised how many people have housing vouchers in their back pocket but have no way to use them," Donny Greene said.
The feeding component mobilizes the established practice of food rescue. By partnering with local farmers, at least 15 restaurants, and
Dare to Care Food Bank,
the organization's professional chefs and volunteers to save usable food that would otherwise be discarded to landfills, utterly wasted at the end of the day. Following strict procedures to ensure health and safety, the chefs reimagine a range of donated food items as appealing and tasty dishes for distribution.
Like an episode of "Chopped"

"Every day is like an episode of 'Chopped,' Kamar said, a sentiment echoed by Sous Chef Sean FitzGerald, a veteran of the kitchens at Lynn's Paradise Cafe and later Le Relais, who likened the process of creating dishes from a range or random donated foods to 'Iron Chef'."
Housing builds on the premise that Housing First is a basic human right. When a houseless person or family accepts the Hotel-to-Housed program, their lives move indoors and begins to stabilize. During their stay in the bright, well-kept hotel, trained care coordinators work with them to assess their individual needs and create a plan of action.
It's important to address all the the physical, mental. and emotional issues that the experience of being unhoused causes. Coordinators ease the process of finding housing, all the way from getting needed documentation to helping with moving in. Thus the hotel program is transitional and temporary, organizers emphasize; it's not. and shouldn't be, a permanent housing solution.
This program started last October with the help of a grant from affordable housing developer LDG development. At the time of my visit last week, the program had already moved 111 unhoused people into permanent housing. Feed Louisville workers will continue to coordinate with those individuals and families for a year to address any problems that arise.
1,000 unhoused people in Louisville
Louisville has more than 10,000 unhoused people, living in their cars, in tents, often in encampments that the city frequently removes, more than ever around Derby time with its influx of well-healed racing fans. That's way too many, just about everyone agrees.
Like similar model nonprofits in other cities, from Cincinnati's
La Soupe
to Washington's
DC Central Kitchen,
Feed Louisville is working hard to do something about that. And now, Kamar says, they're outgrowing their kitchen and looking for new, larger space that will make it possible to feed more people.
How you can help
If you're moved to contribute or to volunteer, Feed Louisville would love to have you. Easy forms on their web page make it easy [url=https://www.feedlouisville.org/donate.html[to donate[/url]and [url=https://www.feedlouisville.org/volunteer.html]to volunteer.[/url] You, too, can make a difference.
Read this article on LouisvilleHotBytes:
https://www.louisvillehotbytes.com/feed ... selessness
You'll also find this commentary in LEO Weekly online later this week:
http://www.leoweekly.com/category/food-drink/