Meat or no meat: The Smokery has you covered
The Smokery's pulled pork is soft and juicy and deeply smoky, falling into thin shreds on a good brioche bun. It's shown with sides of Gouda mac and long-simmered green beans.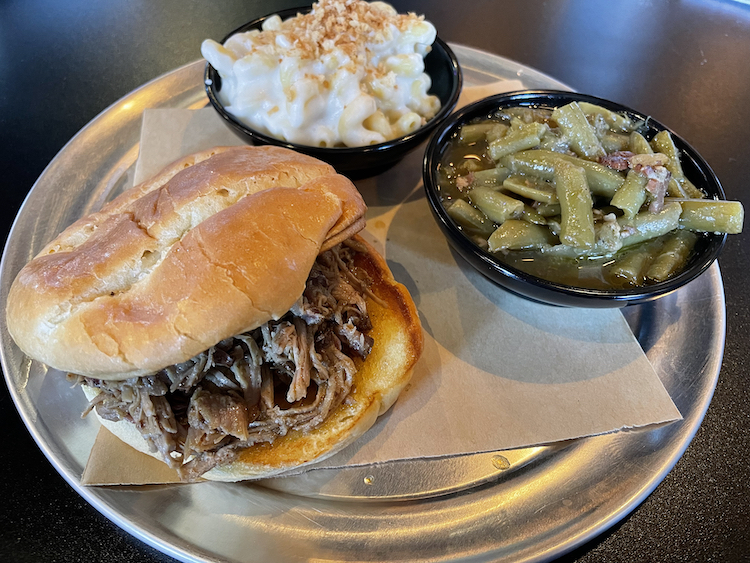 A vegan walked into a barbecue joint. What's the punchline?
Actually, there's no punchline. I'm not a vegan myself. But I can see the ethos: The commercial agriculture that's necessary to have everyone eating tasty animals is bad for the environment. It's bad for our health. And it's pretty obviously bad for the animals who have to be killed for our gustatory enjoyment.
For reasons such as these, growing numbers of people have gone vegan, vegetarian, or flexitarian recently, and that's why I always try to include at least one meat-free dish in each review.
This can be a challenge, though, when I visit a new barbecue joint. Lik this week, when I followed the delicious scent of hickory smoke to The Smokery, a new eatery in a small building on Frankfort Avenue in Clifton.
The building has seen a variety of uses over the years. A nice Asian eatery was there once, briefly a massage parlor, later Matt Anthony's Record Shop, and most recently, a watering hole called Dark Horse Tavern & Avenue Bar.
Dark Horse didn't last long, but it appears to live on in The Smokery, as its chef, Giovanni Tenace, stays on at The Smokery's, and even Dark Horse's Facebook page and email address now serve as pointers to The Smokery.
Tenace's experienced presence may account for some of the buzz arising around The Smokery. Born in Italy, his previous Louisville resume includes such top tables as ROC Restaurant and Le Moo.
The Smokery's menu is brief and fits well with the BBQ genre. As sandwiches with choice of two sides, barbecue meats range in price from $14.99 (for pulled pork or chicken) to $26.99 (for a full rack of ribs); a half-rack or a brisket sandwich are each $16.99. ...
Read the complete article with both reviews on LouisvilleHotBytes,
https://www.louisvillehotbytes.com/smokery-barbecue
You'll also find this review in LEO Weekly's Food & Drink section later today:
http://www.leoweekly.com/category/food-drink/
The Smokery
2354 Frankfort Ave.
709-5176
Facebook:
https://bit.ly/SmokeryLou
Noise Level:
Even when only partially full for a Saturday lunch, the small space, country music, and a happy crowd pushed sound up to 70.6dB, a bit loud but no barrier to conversation.
Accessibility:
 The restaurant is on two levels separated by stairs. Both levels are accessible to wheelchair users via ramps from the patio area.