Streaming and dining: Korean drama imparts a crave
Choi's vegetable kimbap would likely please Attorney Woo Young-Woo with its artful display of colorful sliced veggies and a bit of mild fish cake.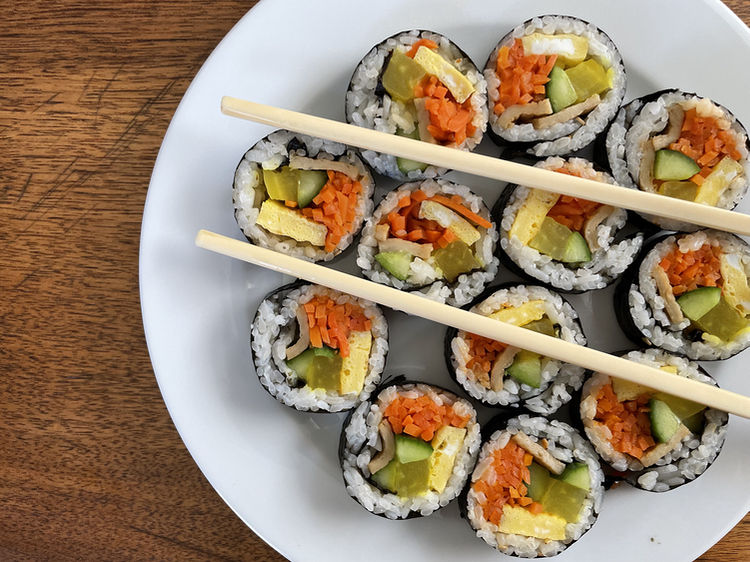 I had never envisioned myself as a fan of South Korean K-dramas, but that was before a Netflix promotion drew me into the fictional life of Extraordinary Attorney Woo.
Now I'm almost through binging this sweet, sometimes challenging drama about the brilliant 20-something Korean attorney Woo Young-woo (played by Park Eun-bin), who, as Netflix explains it, "faces challenges in the courtroom and beyond as a newbie at a top law firm in Seoul and a woman on the autism spectrum."
Before long I had added a Korean module to my Duolingo routine so I could learn characters in hangul, the Korean alphabet. And most of all, I found myself deeply craving the only food item that Young-woo enjoys: Kimbap.
What's a kimbap? Sometimes spelled gimbap or kimbab, it's a popular Korean street food. Its name comes from the Korean words for "seaweed" and "rice," and it looks quite a bit like a Japanese futomaki sushi roll.
Please don't call it sushi
Please don't call it sushi, though. Yes, it's made with black seaweed rolled and fillings and sliced into rounds that look like maki sushi. But it's distinctly Korean and distinctly different. It's flavored with sesame oil, not vinegar. It's stuffed with a hefty mix of ingredients but not raw fish. And it's wrapped in seaweed that's thinner and more delicate than Japanese nori.
Most important, kimbap is culturally and historically distinct. It is one of the most iconic Korean comfort foods, like Mom used to make if Mom was Korean.
Woo Young-Woo loves kimbap because she can see everything that's in it. You know what? That sounds kind of appealing to me, too. So where could I find some? I couldn't spot it on the online menus at a few local Korean eateries. But then someone whispered a secret: You can get it at Choi's Asian Food Market in Lyndon (607 Lyndon Lane, 426-4441).
I'm always up for a trip to Choi's, one of my favorite Asian markets, so off I went. Sure enough, right on the front counter stands a cooler loaded with long black rolls of both beef and vegetable kimbap. It's affordable, too: $4.99 for beef kimbp and just $2.99 for a vegetable roll. (The latter, a sign points out, is not vegan or vegetarian. It contains a small amount of fish cake, although they'll remove that on request.)
Another sign politely asks the public not to touch the box: "We serve you kimbap."
Coincidentally, the man in front of us in line was buying kimbap too, and when the woman behind us saw what we were doing, she wanted some as well. Yes, it's that popular, and Extraordinary Attorney Woo is very likely due some of the credit. It hit Netflix's Top Ten list within weeks of its U.S. launch, and was the platform's most-viewed title last August. By the end of 2022, Netflix named the series one of its most popular non-English titles ever.
Season Two is supposed to launch some time next year, and I for one can hardly wait. In the meantime, I see more trips to Choi's for kimbap in my future.
Kimbap comes home
We brought home a beef roll and a vegetable roll and enjoyed them both. I think I'm starting to see why they appeal to Young-Woo. Arranged neatly on a white plate, Choi's version looks very much like the plate shown in the show's opening credits.
Both beef and veggie rolls are similar, with the obvious distinction of the main ingredient. The seaweed wrapper is very thin, so although they're well fashioned, it's a good idea to pick up each roll with one finger holding the seam to keep them from falling apart. There's no vinegary flavor to the sticky, short-grain rice, with a faint hint of sesame imparting a more savory character.
The fillings are neatly chopped and arranged, rolled into an artful, display. Both contain crisp julienne carrot strips, tender cucumber, crunchy Asian pickles, and a portion of scrambled egg. The meat version also includes a portion of thin-sliced, well-done beef; the veggie item contains a small strip of mild-flavored fish cake in an otherwise all-vegetable combo.
I loved the way that each slice presents a variety of colors, flavors, and textures, and yes, you can see everything that's in it before you bite. One roll made a filling, affordable lunch, and I'll definitely go back for more.
"Tell me what you watch, and I'll tell you what you eat ..."
All this inquiry got me thinking about food, and it didn't take me long to realize that this was not the first time a television series has sent me rushing to a local eatery to enjoy something I just watched.
For instance …
The Taco Chronicles on Netflix fired my appetite for birria before birria was cool. The pandemic was going full bore in the autumn of 2020, but that didn't stop me from heading for the Jeffersontown shop of I Love Tacos to sample birria. "Long-simmered, tender and juicy beef brisket is piled high on a tortilla that has been grilled in spicy adobo sauce," I wrote, "served in traditional style with cilantro and onion, with a tub of rich, intense beef broth seasoned with chopped onions and cilantro for dipping or spooning on your taco."
Something similar had happened a year earlier. "While I was binge-watching the Taco Chronicles on Netflix last week," I wrote in August 2019, "I got to the sequence on carnitas, and immediately realized that I had to get up and go either to Michoacán or, at the least, to a really good local taqueria. Once I checked my wallet, La Catrina Mexican Kitchen in New Albany got the nod."
I could easily go on, and on and on. But I think you're getting the picture. From Jiro Dreams of Sushi to Babette's feast, Big Night, Chocolat and beyond, television can make you hungry. In a good way.
Read this article on LouisvilleHotBytes:
https://www.louisvillehotbytes.com/stre ... rean-crave
You'll also find this commentary in LEO Weekly online later this week:
http://www.leoweekly.com/category/food-drink/