Con Huevos, a favorite for breakfast or lunch
It usually takes me a couple of minutes to figure out how to eat chilaquiles, but I never regret ordering Con Huevos' version of this filling breakfast dish.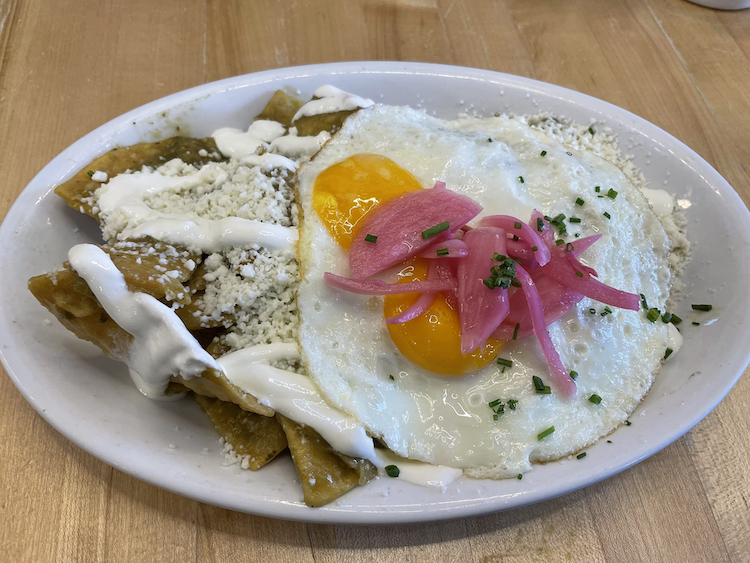 Don't stop me if I've told you this before, but breakfast is one of my favorite meals of the day, and I'm happy to enjoy it for breakfast, lunch, or dinner.
What's more, Con Huevos is one of my favorite places for breakfast, although to my occasional sorrow, it's open only for breakfast and lunch. If I want it for dinner, I have to get by with takeouts picked up earlier in the day.
What do I like so much about Con Huevos? As simply as I can explain it, it's a happy place. Each of this growing local mini-chain's properties is bright and colorful, and the people who work there seem to smile all the time. It specializes in breakfast, as I mentioned, but it does lunch too.
It's Mexican, with the aromatic, attention-grabbing flavors of Mexican cuisine. If you speak only English, you have nothing to fear: The menu speaks your language, and so do the friendly folks who take your orders. But if you want to try a few remembered words from high-school Spanish, they'll put up with that, too.
In short, the husband-and-wife ownership team of Jesus Martinez and Izmene Peredo does everything right, and that has helped drive the growth of Con Huevos from a tiny Clifton storefront to an expanded original shop and four more properties from a grab-and-go spot in the Omni Hotel downtown to a soon-to-open fifth shop in Norton Commons.
I have a special place in my heart for the Clifton location, having been a regular customer since it opened early in 2015. I like to check on its newer locations, though, and I've been happy to find their food and service right up to the quality of the original shop. This time we settled in at the Holiday Manor branch on US 42 and enjoyed an excellent meal. ...
Read the complete article with both reviews on LouisvilleHotBytes,
https://www.louisvillehotbytes.com/con-huevos-favorite
You'll also find this review in LEO Weekly's Food & Drink section later today:
http://www.leoweekly.com/category/food-drink/
Con Huevos
4938 U.S. Hwy 42
Holiday Manor Shopping Center
384-3744
https://conhuevos.com
https://facebook.com/ConHuevosRestaurant
Other locations:
2339 Frankfort Ave., 384-3027; 2125 Hurstbourne Pkwy., 384-2432; Con Huevos Craves in the Omni Hotel's Falls City Market, 210 W. Liberty St,; and, coming soon, 10639 Meeting St., Norton Commons.
Noise Level:
This place is popular, it's usually full during brunch hours, and conversation can be a challenge. Average sound level during our visit was 76dB, roughly equivalent to a vacuum cleaner.
Accessibility:
 The restaurant appears accessible to wheelchair users, although the doors are a bit heavy.