On the left, a pair of house-made corn tacos topped with falling-apart pork carnitas, chopped onion, and fresh cilantro. At right, sopesitos, a thick hand-made tortilla topped with lengua (beef tongue), lettuce, queso fresco, and crema.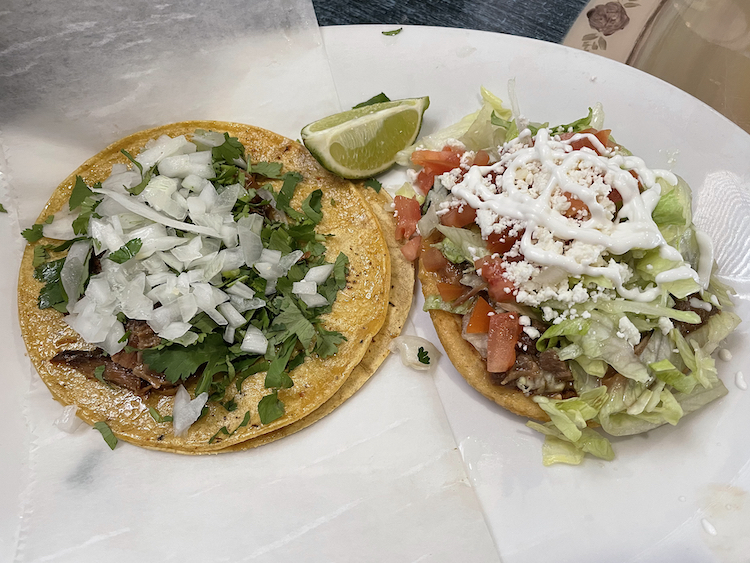 If I'm going to go out for Mexican food, I'd really rather find my way to a taqueria or other small eatery run by immigrant neighbors. Someplace where the food is the real thing, where I need to be prepared to order in my awkward Spanish or by pointing at an item in the menu with a smile.
Someplace, in other words, like El Mariachi Restaurante Mexicano. This East End eatery, more than just a taqueria, has long been one of my favorite local spots for Mexican fare thanks to the quality of its food, the breadth of its menu, and its colorful, happy-making decor.
Not long ago, running an errand out Lagrange Road, I noticed to my surprise that things have changed. They've gotten better!
For years, El Mariachi and a cluster of other Latino shops – a carniceria (butcher shop), panaderia (bakery), and a supermercado (grocery) – had occupied the back leg of an L-shaped strip center, with a more North American string of shops (including a Mexican-American eatery) facing Lagrange Road.
Suddenly everything has changed! In December, El Mariachi moved into larger quarters in the front of the building. The entire structure is now painted the exuberant bright-adobe color that marks the properties of Mercado Guanajuato, a impressive immigrant-owned business that over the past 15 years has grown from this location into three Latino supermarkets and business clusters in immigrant-rich communities here, on Preston Highway, and on Bardstown Road in Fern Creek.
Naturally I got back as soon as I could, and I'm pleased to report that El Mariachi is just as good as ever. The new location's two dining rooms are spacious, loaded with Mexican folk art (and even a couple of Dia de los Muertos images from Pixar's movie Coco), with walls painted to resemble stone arches. There's a short bar, a few flat-screens (two of them tuned to soccer, er, fútbol, at the time of our visit), and sturdy tables, booths, and chairs with their backs bearing molded images of stylized sombreros.
The large, colorful 10-page menu contains full English explanations for all the dishes, making it easy to enjoy the fare even if you don't speak a word of Spanish. ...
Read the complete article with both reviews on LouisvilleHotBytes,
https://www.louisvillehotbytes.com/el-mariachi-favorite
You'll also find this review in LEO Weekly's Food & Drink section later today:
http://www.leoweekly.com/category/food-drink/
El Mariachi Restaurante Mexicano
9901 Lagrange Road
413-5770
https://orderelmariachimexicanrestaurantky.com/
https://www.facebook.com/elmariachimexicanres
Noise Level:
The large dining room was only partly filled, but the combined sounds of background music and a full-volume soccer match on the flat screen pushed noise levels to an average 69.3dB (pushing the limits for conversation) with peaks to 78.1 dB (a little too loud for comfort).
Accessibility:
 The restaurant and restrooms appear accessible to wheelchair users.