Lupo's pizza is tops … and that's not all
"Funghi" is Italian for "mushrooms," and Lupo's funghi pizza is loaded with fancy specimens from local Frondosa Farms, along with four Italian cheeses.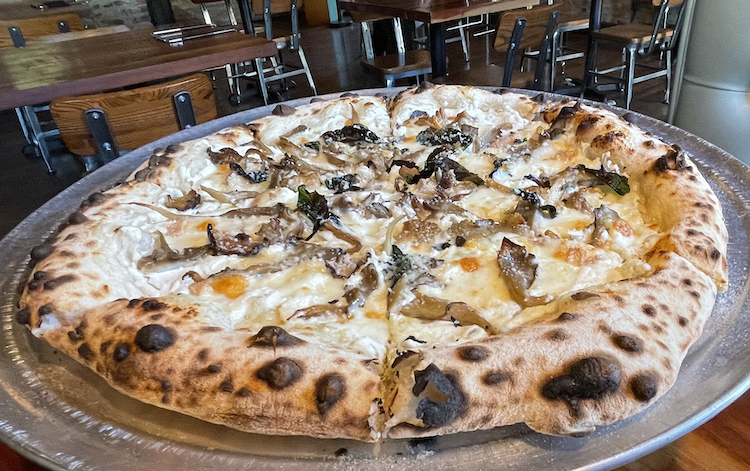 I did a quick double-take when I heard that Pizza Lupo had won "Best Pizza" honors in LEO Weekly's Reader's Choice awards.
Not that it isn't worthy. Lupo's wood-fired, leopard-spotted pies with their quality toppings are a go-to for me whenever I have pizza in mind. After all, "Pizza" is the restaurant's first name.
What's more, one of the first things you see when you enter the charming dining room of this renovated 160-year-old red-brick Butchertown building is a towering stack of takeout pizza boxes.
But in contrast with many of the region's other top pizza spots, Lupo offers much more. It's a top-tier pizzeria. And it's a splendid Italian/international eatery with an impressive kitchen and, by the way, an exceptional bar. It's a winning combination, and it makes Lupo one of my favorite restaurants. 
I didn't even go with pizza in mind the other day. Nope. Lupo's Facebook Page nabbed me with its post, "Colder weather brings richer dishes back to Lupo. Gnocchi parisienne in taleggio cream with sage from our garden and roasted pepitas."
Can you say "yum," boys and girls? I thought you could. So we came for the gnocchi, but of course we got pizza, too: Not just any random pizza but a beautiful Neapolitan-style pie loaded with local mushrooms and fine Italian cheeses.
Lupo's menu doesn't go on for pages. It's a simple sheet with food on one side and an impressive selection of reasonably priced artisanal beverages on the other. Rest assured, two pages allow plenty of room for a selection of excellent choices.
On the food side, the first column offers eight wood-fired sourdough pizza options. These 16-inch pies range in price from $21 (for a classic margherita or vegan marina made with soleggiati sun-dried and milled organic tomatoes) to $26 (for a cheese-stuffed pizza fiore, available only Mondays through Thursdays). Add cheese, meat, or veggie toppings from an extensive list for $1 to $6 each.
Column Two, "From the Kitchen," adds a choice of ten items including entrees, small plates, and a single artisanal gelato dessert ($7), ranging in price from $6 (for a plate of Castelvetrano olives with house-made fennel pollen togarashi spice) to $20 (for a seasonal gnocchi dish or spaghetti and meatballs made with 3D Valley Farm beef). ...
Read the complete article on LouisvilleHotBytes,
https://www.louisvillehotbytes.com/lupo-pizza-tops
You'll also find this review in LEO Weekly's Food & Drink section later today:
http://www.leoweekly.com/category/food-drink/
Pizza Lupo
1540 Frankfort Ave.
409-8440
https://pizzalupo.com
https://facebook.com/LupoLouisville
Noise Level:
The dining room wasn't crowded early on a week night, and background music didn't hamper conversation. Average sound level was a mellow 60.9dB.
Accessibility:
Two short steps bar wheelchair access to the main entrance. Wheelchair users may park at the rear of Lupo's parking lot, where there's a separate wheelchair ramp.