Señora Arepa serves delicious Venezuelan street food
Blue summer skies and blue-tinted tables give Señora Arepa's shady patio a seaside feel, and haded our food photos with a bluish cast. Regardless of its apparent hue, the Caribbean-style pork in a pernil arepa is delicious, tender and juicy.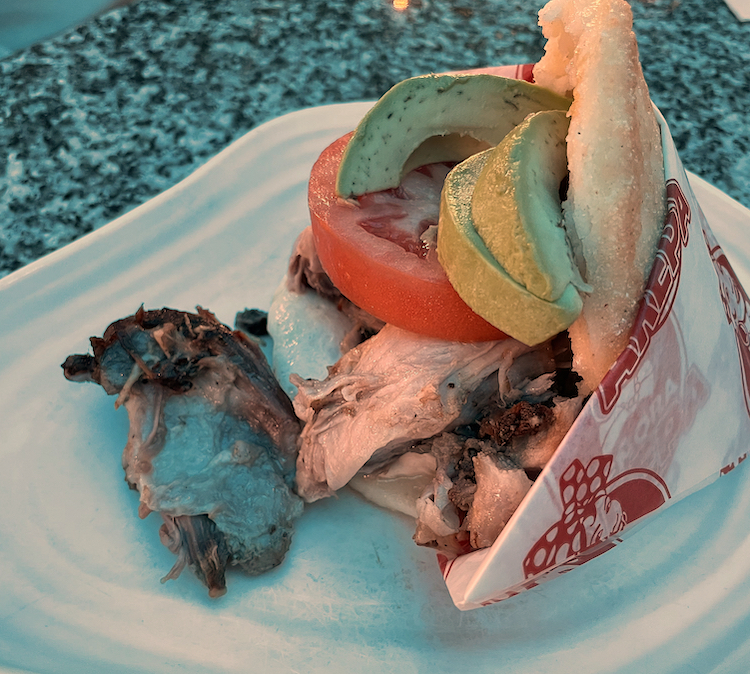 Covid-19 has been rough for NuLu restaurants. The pandemic has taken at least partial blame for the loss of Harvest, Rye, and most recently, Decca.
For the Martinez family's Olé restaurant group, though, challenges create opportunities. They opened the Cuban restaurant La Bodeguita de Mamá in July 2020, early in the pandemic, in the former headquarters of Creation Gardens at 725 E. Market St.
Señora Arepa came next, opening in the spring of 2021, serving Venezuelan street food in the smaller building behind Bodeguita at 721 E. Market St., once the home of Ghislain on Market.
They made it a trifecta early this year, moving their popular Mexican eatery Guaca Mole from the eastern suburbs to the former home of Rye.
It might be about time to re-brand NuLu as Olénulu. Works for me!
I'd like to try all three of these spots, and count on it, I'll get there soon. For the first look, though, they had me at "arepa." I've loved this street-food delight since sampling them from Colombian street vendors along Roosevelt Avenue in New York City's Queens borough.
So what, you ask, is an arepa? It is a thick, crisp cornmeal cake that originated among indigenous tribes in the mountains of what now make up Venezuela, Colombia, and Panama, long before Columbus and the colonizers came.
It's still popular in those countries and beyond, but with a differnence. In Colombia they generally dress the corn cake with butter or cheese and call it a day. But Venezuela has made the arepa a culinary icon. They'll slice into a steaming corn cake and stuff it with, well, just about anything: meats, cheese, avocado, salad, vegetables, even dessert!
Señora Arepa offers a taste of Venezuela in a menu that offers 16 different full-size arepas, along with smaller appetizer and dessert arepitas and other Venezuelan dishes too, with quick counter service in a pretty indoor-outdoor setting that gets you in a Venezuelan mood.
The patio feels cool even in mid-August, and on a bright summer day it was so, so blue. The light from the clear sky was blue, and even the gray granite table tops were tinted light blue. It was like being under water, or on a Caribbean beach anyway. It also shifted my food photos toward a bluish hue, so apologies if the images with this article seem a little off. It's not the food. ...
Read the complete article on LouisvilleHotBytes,
https://www.louisvillehotbytes.com/senora-arepa
You'll also find this review in LEO Weekly's Food & Drink section later today:
http://www.leoweekly.com/category/food-drink/
Señora Arepa
721 E. Market St.
795-3995
https://www.senora-arepa.com
Facebook:
https://bit.ly/senora-arepa
Instagram:
https://www.instagram.com/senoraarepa_louisville
Noise Level:
Happy Latin music filled the patio space but didn't hamper communication. Average sound level was 74.2dB, the level of normal conversation.
Accessibility:
The restaurant appears to be fully accessible to wheelchair users.