Goodfellas makes us an offer we can't refuse
In proper New York City street corner pizzeria style, Goodfellas' slices are long and flexible, allowing the bearer to fold a slice lengthwise and eat it while walking along.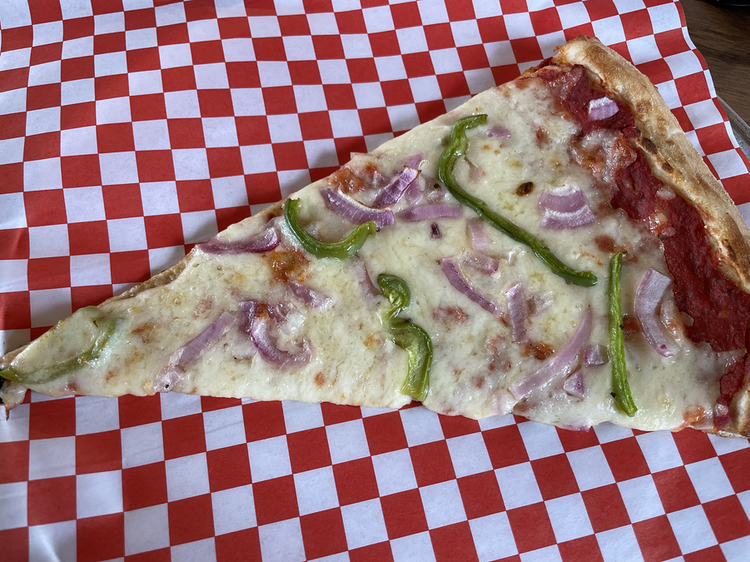 Let's welcome Goodfella's Pizzeria to Louisville! The first local outlet of a small but quickly growing Lexington-based chain, this corner spot in the Baxter Apartments at Bardstown Road and Baxter Avenue joins sibling eateries in Indianapolis and the Cincinnati area.
The pizza is good, the meatballs impressive, and the scene looks like a spot in New York City's Little Italy. Well, a little bit, anyway.
Titled after the 1990 Martin Scorcese gangster flick of the same name, Goodfellas' tongue-in-cheek mob theme extends from specialty pizzas like The Don and The Vinny to its Wiseguy lounge with soft leather sofas; silhouetted mobster figures in fedoras, and Italian-American crooners of the '50s and '60s.
As I walked south on Baxter toward the restaurant, which is tucked into the southern corner of the large, four-story apartment complex, I was impressed with its style. The structure is designed to resemble multiple smaller units, incorporating remnants of older buildings left over from the demolition of the storied Phoenix Hill Tavern on the site. 

The street level houses small retail shops – Carali's Peruvian-style rotisserie chicken is already in the building – built in a storefront style that fits in neatly with the adjacent stretch of Baxter. Good work!
The interior gets that old-school Little Italy look from lots of exposed brick and arches, subway tiles and wood-look tables, an impressive bar, and attractive white hexagonal-tile flooring with black accents. Oh, yeah, and a long, glass-fronted case to keep oversize pizza slices warm and ready, just like at your NYC street-corner slice shop.
Speaking of which, you can sample a slice for a very attractive price if you take advantage of Goodfellas' lunch special: A slice, a side, and a soft drink for $8, or that Al Pacino meatball sub and drink for $9. It's an offer you can't refuse, available seven days a week from 11 a,m.-3 p.m.
If you prefer a whole pie – "hand-tossed, fresh-made, baked on the stone" – they come in 12-inch, 16-inch, and 22-inch sizes for $11, $16, or $22 respectively, plus $2, $3, or $4 for each of nearly 30 topping choices. Another deal worth noting: "Subject to some restrictions," 12-inch pizzas are half-price on Mondays....
Read the complete article on LouisvilleHotBytes,
http://www.louisvillehotbytes.com/goodf ... ant-refuse
You'll also find this review in LEO Weekly's Food & Drink section later today:
http://www.leoweekly.com/category/food-drink/
Goodfellas Pizzeria
642 Baxter Avenue
398-5704
https://goodfellaspizzeria.com/louisville
https://facebook.com/GoodfellasBaxter
Noise Level:
With the place filling up but not at capacity at midday, we had to raise our voices to carry on a conversation. Decibel levels averaged 73dB (typical for a home audio system cranked up a bit) with peaks to 79dB (the sound of your garbage disposal at work).
Accessibility:
The modern building appears fully accessible, although the heavy front door requires a strong pull.