VinBun Vietnamese introduces us to bún and more
Tofu steps up as a leading role in bun tofu, a delicious Vietnamese vermicelli noodle bowl.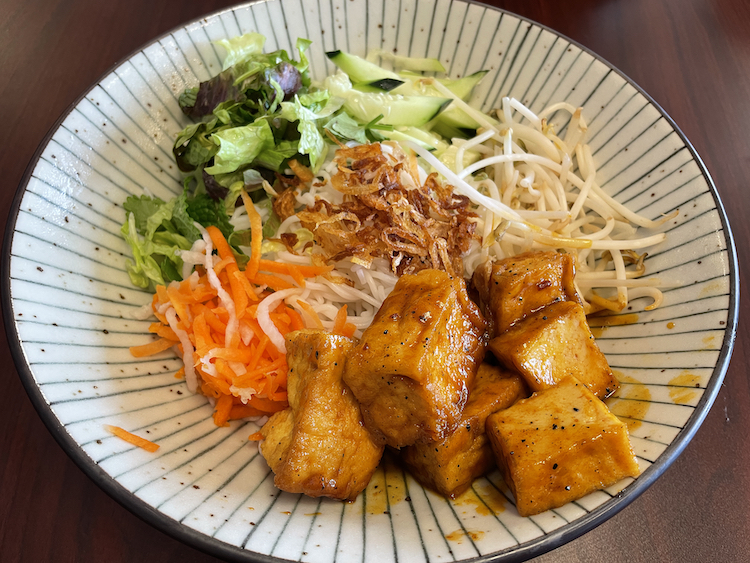 By Robin Garr
LouisvilleHotBytes.com
We've learned to love Vietnamese food. We're big fans of pho, and we've learned to call it "phuh" when we order it.
Now let's warm up to Vietnam's other iconic dish, bún, which rhymes with "boon." Want to get to know bún? You can't go wrong by trekking out to the metro's newest Vietnamese eatery, Vin Bun in Middletown, where the name of the dish is part of the restaurant's moniker!
Bún (pronounced like boon) means noodles, typically thin rice vermicelli noodles; and much like pho, it comes in all sorts of versions based on the primary ingredient that accompanies the noodles. Bún bo, for instance, is spicy beef noodle soup. Bún cha? That's pork meatballs and noodles. And so it goes, right on through the Vietnamese menu to bún mam, which is fermented fish noodle soup, if you dare.
Vin Bun Vietnamese Bistro is just about a month old, so it still has that new-restaurant shine. It's located in the same short strip of storefronts in Middletown that houses Hyderabad House Indian, which I reviewed recently.

Vin Bun is a bright, cheerful place, a long, narrow room with colorful murals along both walls. There's room for maybe 40 diners, and just about every seat was taken on a recent Saturday at midday. With just two servers that I could see, service stuttered a bit at times, but they were helpful and as friendly as it's possible to be when one is on the run.
The menu is relatively short compared with some of the region's long-standing Vietnamese spots, but that's a wise move when a new eatery is ramping up the kitchen.
Bun might be the restaurant's name, but there's more ...
Read the complete article on LouisvilleHotBytes,
http://www.louisvillehotbytes.com/vinbun-vietnamese
You'll also find this review in LEO Weekly online.
http://www.leoweekly.com/category/food-drink/
Vin Bun Vietnamese Bistro
12422 Shelbyville Road
708-1470
https://vinbun-vietnamese-bistro.business.site
Facebook:
http://bit.ly/VinBunVietnamese
Noise Level:
Most of the restaurant's 40 or so seats were filled, but voices weren't raised, and the background music by French-born pianist and composer Riopy was soft and meditative. Sound levels stayed in the 70-75dB range, the level of normal conversation.
Accessibility:
The restaurant and restrooms appear to be accessible to wheelchair users.