Currito impresses with flavorful grains, greens, and more
You can't get much more superfoody than kale, arugula, and quinoa all three, and this tasty salad added bites of medium-rare steak and feta cheese to make it even more appealing.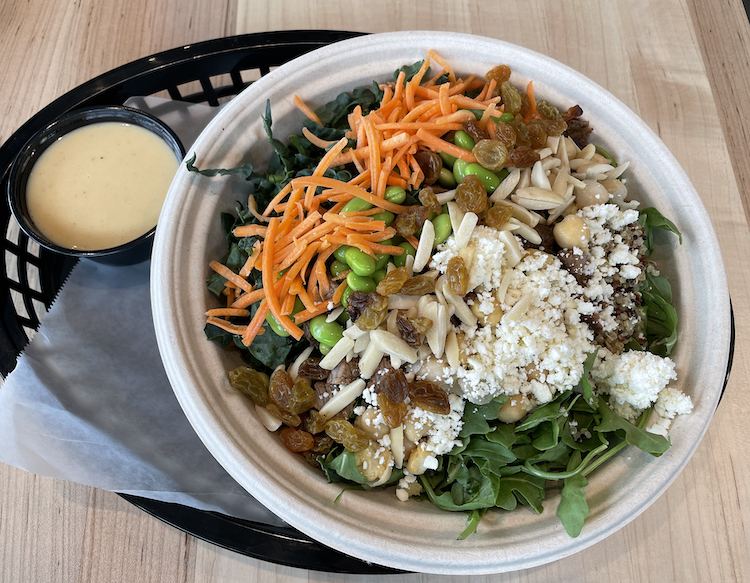 I don't review chain restaurants often. I'd much rather talk about Louisville's great independent local eateries. But when a new corporate shop comes to town and people tell me the food is really good, I'm willing to take a look.
I believe the last time I did such a thing was in November 2018, when I finally got around to sampling the amazingly tasty fried free-range chicken at The Eagle on Bardstown Road, one of the first ventures of its Cincinnati-based corporation outside its home town.
Here we are, three years later, and I'm doing it again, this time at Currito. I've got to tell you that the creative international flavors of its grains and green bowls are startlingly good. And here's a funny coincidence: Currito and The Eagle both originate in a small but impressive Cincinnati-based outfit called Thunderdome.
Curiously, while the chain got its start as a quick-service burrito operation with some international flavors, it has evolved well away from that. The Louisville shop, a local franchise – its 22nd operation in its sixth state – doesn't actually have a burrito on the menu. You may, however, order any of its dozen-plus grains or greens bowls wrapped into an oversize tortilla for no extra charge.
The new Louisville Currito's spacious, high-ceilinged room is bright if a bit spartan. The walls are decorated in abstract orange, yellow, red and white, with spare, shiny wood seats and tables. I loved it that the two big flat screens within my view were both showing football: American-style gladiators on one, shorts-clad soccer players on the other.
Currito is quick-service, like a lot of quick burrito joints. You order at the start of the line and watch them build your bowl from pans full of prepped ingredients as you walk along the counter to pay at the end. ...
Read the complete article on LouisvilleHotBytes,
http://www.louisvillehotbytes.com/currito-grains-greens
You'll also find this review in LEO Weekly's Food & Drink section online this week.
http://www.leoweekly.com/category/food-drink/
Currito
6460 New Dutchmans Parkway
883-0043
http://currito.com
https://facebook.com/CurritoEatsLouisville
Noise Level:
The sound system can hamper conversation with peaks over 75dB during loud songs; but sound levels usually hover in the more conversational 60dB range chatter.
Accessibility:
The new building appears fully accessible to wheelchair users.