Sonal masters Indian vegetarian cuisine
What's a thali? It's a sampler platter that includes small portions of a variety of Indian dishes. Sonal's Kitchen offers a choice of four regional thalis. This one represents North India.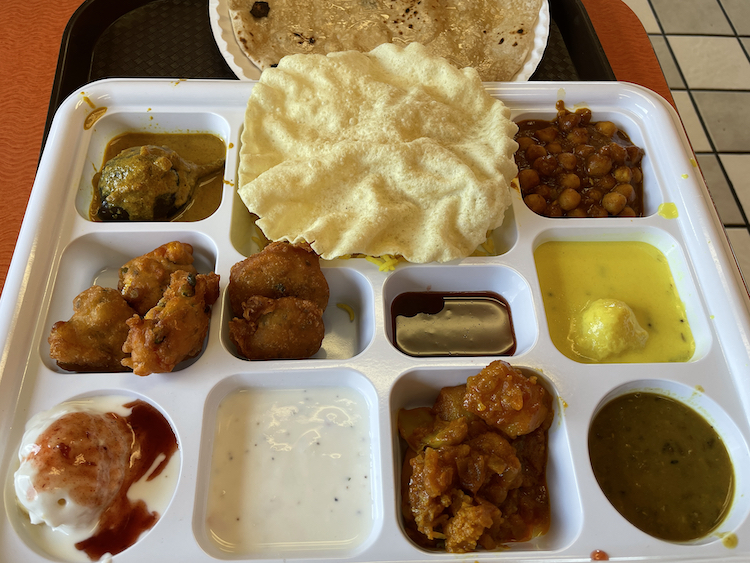 Louisville has three all-vegetarian Indian restaurants, and to tell you the truth, the question isn't why there are so many, but why it took them so long to arrive.
We have about 15 Indian restaurants now, and I'm happy to pull up to a table at every single one.
But all-vegetarian Indian? That's new. Shreeji Indian Vegetarian Street Food opened in November 2018. Honest Indian Restaurant opened just about a year later, at the end of 2019. And somewhere in that same brief window of time – "three years ago," the guy behind the counter told me – Sonals Kitchen Homemade Authentic Indian Vegetarian Restaurant popped up in a former Moby Dick shop on Chamberlain just north of Westport Road.
Now, wait, you may be thinking. Isn't vegetarian food a serious option at every Indian restaurant? Well, yes. Primarily for religious reasons, nearly 81 percent of Indians limit meat in their diets, and 39 percent consider themselves full vegetarians, according to a Pew Research Center study published in Nature.
In light of those numbers, you might ask why there aren't
more
vegetarian Indian restaurants.
That's probably because it hasn't really been necessary. Virtually every Indian restaurant offers a variety of vegetarian items on its omnivorous menu. If you're vegetarian or vegan, every Indian restaurant has options for you.
But the new arrivals open up a wider choice of vegetarian options, including not only main dishes but the deliciously tempting street-food snacks called chaat. ...
Read the complete article on LouisvilleHotBytes,
http://www.louisvillehotbytes.com/sonal ... vegetarian
You'll also find this review in LEO Weekly's Food & Drink section today.
http://www.leoweekly.com/category/food-drink/
Sonals Kitchen
3741 Pamela Rae Drive
407-1361
http://sonalskitchenky.square.site
https://facebook.com/sonalskitchen001
Noise Level:
High-back booths provide quiet space; dB levels actually ranged a bit below the range of normal conversation.
Accessibility:
The entrance and rest rooms are accessible to wheelchair users, but most of the seating is in booths or on tall chairs.