Noosh Nosh satisfies at any time of day
Skewered bits of tenderloin were tasty but cooked to near well-done, with potent Argentine-style chimichurri for flavor contrast.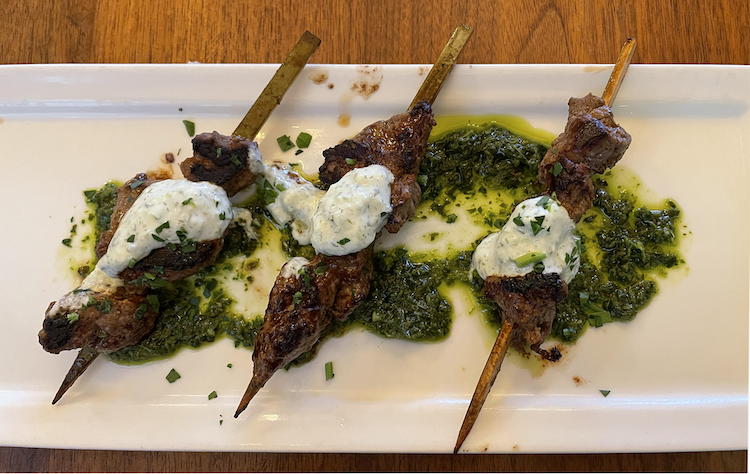 Here is the eternal question about dining out: Do we want to go someplace excellent but pricey, or shall we hit an eatery with great affordable fare?
Thanks to the wit and wisdom of Chef Anoosh Shariat, you can jump in the car and hold that decision until you swing into your parking place.
How's that? Simple enough: Shariat runs two restaurants, right across the Brownsboro Center parking lot from each other. If your mood turned to fine dining, make your reservations and glide into his upscale Anoosh Bistro. If you want something tasty that will suit your wallet, stroll over to casual Noosh Nosh, where you can't go wrong with a wide-ranging selection of affordable goodies for breakfast, lunch, or dinner.
I'll catch up with Anoosh Bistro soon, when my bank account recovers from the pandemic. But I'm ready for Noosh Nosh now. We dropped in a little before noon on a Saturday, hoping to beat the rush, and found a 15 minute wait and a happy, noisy crowd of supplicants in the small waiting area. By the time we were seated, the line was out the door. This place is popular, especially on weekends; it's open daily except Mondays from 10 a.m. through the evening.
Don't fret about the wait. Put in your name and they'll take your number, freeing you to check out nearby Brownsboro Hardware or the Party Mart wine-and-liquor shop until you get your call. Online ordering is also available for takeout or curbside pickup.
Noosh Nosh's shopping-center space is large and bright, with colorful decor including walls covered with overlapping pizza peels in gold and bronze and pale and dark green. Dominating the open kitchen in the main dining room rises the red-tiled dome of an impressive wood-fired stone oven that turns out first-rate pizzas, flatbreads, and more. ...
Read the complete article on LouisvilleHotBytes,
http://www.louisvillehotbytes.com/noosh-nosh-satisfies
You'll also find this review in LEO Weekly's Food & Drink section today.
http://www.leoweekly.com/category/food-drink/
Noosh Nosh
4816 Brownsboro Center
205-2888
nooshnosh.com
facebook.com/NooshNoshAllDay
Noise Level:
As the smaller front room filled, the sound rose to an average of 74dB, about as loud as the environment inside a moving car. But conversation was only difficult when noise occasionally rose to peaks at 82dB, the level of loud singing.
Accessibility:
The restaurant and restrooms appear to be accessible to wheelchair users.