Pints & Union, a London pub in New Albany
Why would an Indiana eatery modeled on a British pub feature Indian-style tikka like this mixed-veggie model? Tikka is the most-popular dish in real English pubs!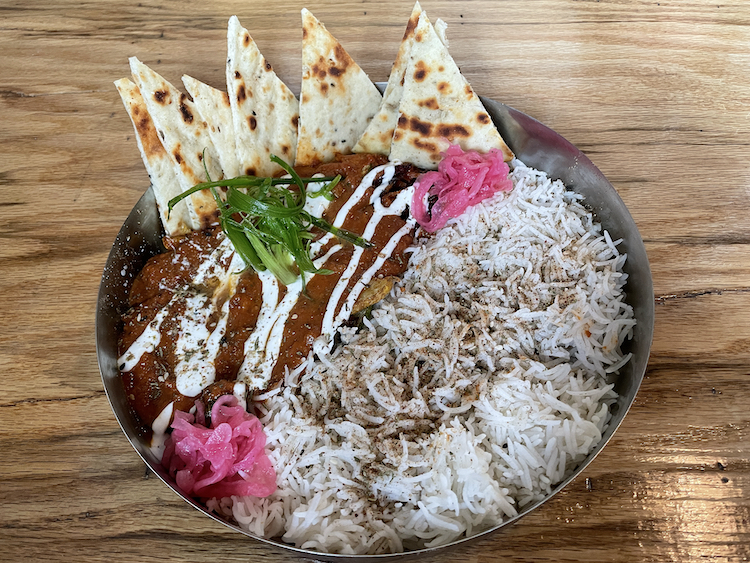 Let's head over to New Albany for a London pub experience at Pints & Union! It's the real deal: They've got great beers, ales, porters and stouts! They've got that dark and cozy British pub vibe! They've got great fish and chips! And they've got Indian tikka!
Wait! What?
Yes, you heard that right: The most characteristic British pub-style dish is not the fish and chips that I can hear you assuming, but chicken tikka, the spicy chicken curry dish that Indian immigrants brought to Britain and shared with the world. Chicken tikka has become the UK's most popular dish, served in all Indian restaurants and many pubs and available ready-made in all supermarkets, according to British Heritage Travel.
But how about fish and chips? Yes, of course, don't worry, they're still right up there on the pub popularity list.
Pints & Union appears to be emerging from pandemic lockdown with moderate caution. A large sign just inside the entrance shouts READ ME, then goes on, more politely, to invite you to seat yourself and use a QR code pasted on the table to summon a digital menu on your smartphone. Once you've decided, stroll up to a designated ordering area at either end of the bar to place your order.
The pub-style, beer-friendly menu was created by pub owner Joe C. Phillips to fit the establishment's commitment to be a "progressively old world Public House with classic cocktails, small plates, and comfort beers."
The menu is relatively concise. Bear in mind that this old pub's kitchen is no larger than the workspace within a food truck. But it does a remarkable job of turning out quality pub fare. What's more, it finds a way to crank out about 20 food choices, plus daily specials. About half the bill of fare is marked as vegetarian or vegan. ...
Read the complete article on LouisvilleHotBytes,
http://www.louisvillehotbytes.com/pints ... london-pub
You'll also find this review in LEO Weekly's Food & Drink section today.
http://www.leoweekly.com/category/food-drink/
Pints & Union
114 E. Market St.
New Albany, Ind.
(812) 913-4647
http://pintsandunion.com
https://facebook.com/Pintsandunion
https://instagram.com/pintsandunion