We welcome Half Peach back after a rough spell
Fried "shrimp" made from konjac, a Southeast Asian tuber, become persuasive in the context of a New Orleans-style po'boy sandwich.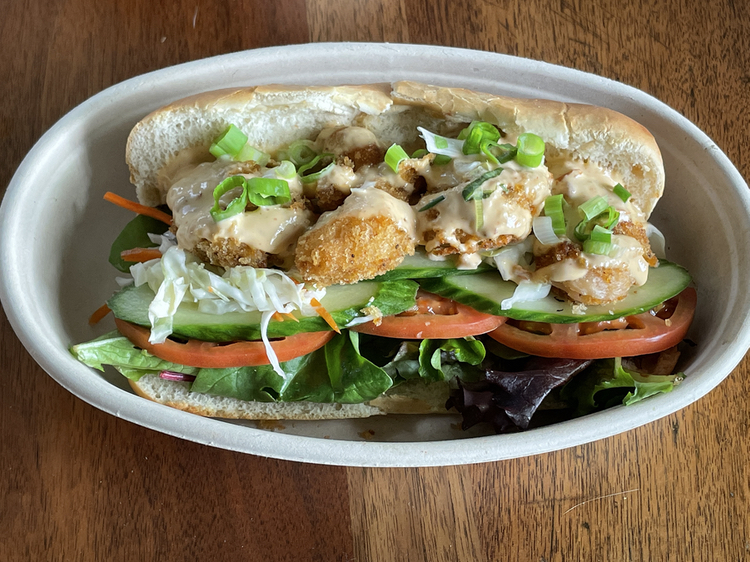 It has been almost two years since a maintenance-related roof collapse abruptly closed four popular restaurants in the Gallerias at St. Matthews strip on Oechsli Avenue in St. Matthews.
The roof remains unrepaired, the building is up for sale, and litigation pending. Under the added weight of the Covid-19 pandemic, each of the four eateries – Del Frisco's, Havana Rumba, Charim Korean Restaurant, and Half-Peach Bakery & Cafe – has struggled to deal with insurance and legal issues as they fought to recover and relocate.
Havana Rumba, luckily, had already plans to move a month before the cave-in. Renamed Mojito in Havana, it opened the former Boombozz/Waylon's Feed and Firewater on Shelbyville Road in October 2019.
Charim has yet to reopen, although owner Yeon Hee Chung has periodically provided food at Zanzabar and did a pop-up event at 610 Magnolia. Del Frisco's was down for more than a year before elegantly resurfacing last November in the former Z's Oyster Bar & Steakhouse property on Whittington Parkway.
Finally, Half Peach reopened just six weeks ago in the Mariposa Center right behind its former location. Half Peach had been wholesale baking in borrowed restaurant kitchen space. A GoFundMe page that co-owner Sue Zhao set up to help cover expenses for its 16-person staff yielded $4,470 of its $8,000 goal. If you're inclined to help, it's still open for donations.
Click here
.)
The new space is tiny, offering only takeout, and it's currently open only from 4-8 p.m. Wednesdays through Saturdays. It's located off the parking lot at the rear of the building. I wanted to get over to pick up a meal as soon as I could, and I hope you will, too.
Half Peach bills its selection as "international vegan comfort food." The menu isn't long, and you'll often find some items marked as sold out. This is a challenge in a tiny kitchen, I'm sure. I recommend patience. ...
Read the complete article on LouisvilleHotBytes,
http://www.louisvillehotbytes.com/half- ... lcome-back
You'll also find this review in LEO Weekly's Food & Drink section today.
http://www.leoweekly.com/category/food-drink/
Half-Peach Bakery & Cafe
170 Sears Ave.
365-2045
http://halfpeachbakery.com
https://facebook.com/halfpeachvegan
@Half_Peach
on Twitter
https://instagram.com/half_peach