BurgerIm adds delicious Indian flavor burgers
BurgerIM's new chili chicken burger is actually a whole piece of roasted boneless chicken loaded with fiery Indian spices.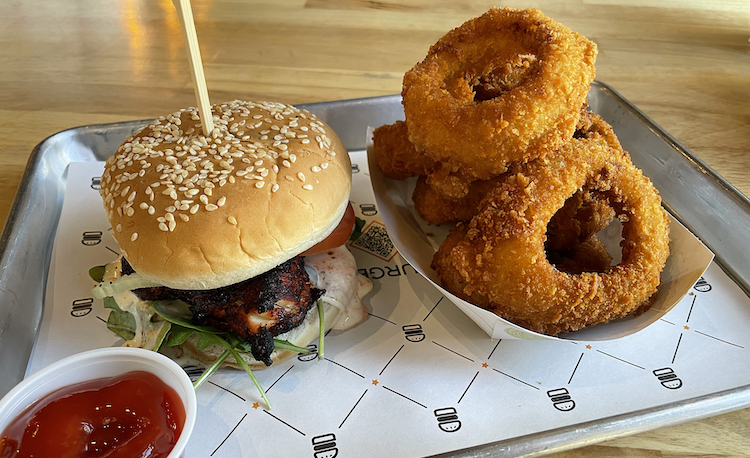 I don't normally go back to a place I've reviewed only a year or so ago, but I'm making an exception for BurgerIM. Why? Grace under pressure merits applause. Also, Indian food!
Here's what I'm talking about: The owners, the husband-and-wife team of Nermal Raj and Veronica Michel, opened their doors in mid-March last year, just a few days before the pandemic shut down in-restaurant dining.
That was a palpable hit, but it wasn't the only one. Around the same time, BurgerIM's California-based parent corporation, Burgerim Group USA, spectacularly collapsed, its bankrupt owner fleeing the country.
Nevertheless, Michel and Raj persevered, promoting the place on social media and turning out burgers of excellent quality that drew consumer raves. Like the Timex watch of yore, they took a lickin' and kept on tickin'.
Then I learned that they've added new menu items as they approach their first birthday April 17. Not just any burgers, either, but creative inventions infused with flavorful Indian spices.
That did it! Off we went, planning to enjoy the sunny but chilly spring day dining in the Vogue Center's promenade. Then I noticed that it was sunny and chilly and extremely breezy too. Never mind! Indoors we went, and felt quite safe with the tables correctly spaced a little more than the required six feet. A table in a far corner made it even better. If I was in a higher-risk category and hadn't been vaccinated, though, I'd still choose takeout for now. ...
Read the complete article on LouisvilleHotBytes,
http://www.louisvillehotbytes.com/burge ... us-burgers
You'll also find this review in LEO Weekly's Food & Drink section today.
http://www.leoweekly.com/category/food-drink/
BurgerIM
3733 Lexington Road
The Vogue Center
901-1101
http://burgerimlouisvilleky.com
https://facebook.com/BurgerimLouisvilleKY