Simply Thai makes takeout delicious and easy
Simply Thai's green curry is just as green as the name implies, filling a gentle greenish broth with fresh green beans.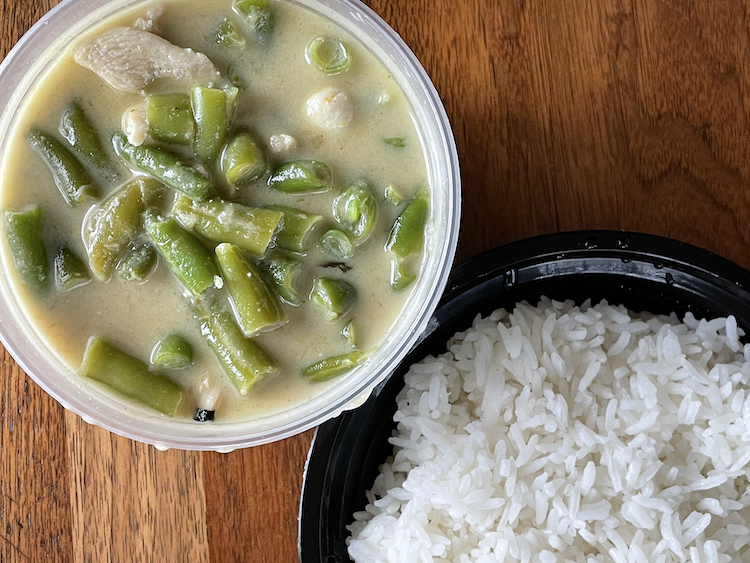 Now that I've resumed dining in with last week's Monnik Beer Co. review, it's back to sitting down at a restaurant table every week, right?
Well, no, not necessarily. This week, for instance, I got takeout from
Simply Thai
. Before I tell you about the food, let's talk about this.
Our dining habits, it seems, may have changed after a year of pandemic isolation. Now that we're getting a peek at the new normal, it appears that some of the things we learned during this strange year are going to stick with us. Such as the way we do restaurant dining.
B.C. (Before Covid), I never did takeout or delivery. I like dining in the restaurant's environment. I generally shunned alfresco dining, and I wasn't wild about takeout.
But when the pandemic shut down indoor dining just over a year ago, suddenly takeout – ideally with the curbside pickup option – started looking a lot more attractive.
I'll confess, even after Dr. Fauci said you couldn't get Covid from eating stuff, I was a bit wary. But after a month without a restaurant dish, I couldn't take it any more. I got my first curbside meal in April from MozzaPi, and it made me happy. Then just like that we were eating restaurant fare every week, and it worked really well for me.
Sure, I missed the restaurant experience, but plating an excellent meal that I didn't have to cook made up for a lot of that. It was thrifty, too: It was easier to stretch takeout leftovers over a couple of days than to get and use a restaurant doggie bag.
So now that I'm in the habit of easy takeout, I don't want to quit, and I imagine a lot of you don't, either. Just keep in mind that to support our still struggling local restaurants we want to order often and tip as generously as we would in the restaurant.
I chose Simply Thai for lunch this week because it's a favorite. As I hoped, we got a good quality meal for a fair price in startlingly generous portions. My box of pad Thai weighed almost three pounds on the kitchen scale. Not only was it good, but it took me three or four days to finish it all. ...
Read the complete article on LouisvilleHotBytes,
http://www.louisvillehotbytes.com/simply-thai-delicious
You'll also find this review in LEO Weekly's Food & Drink section today.
http://www.leoweekly.com/category/food-drink/
Simply Thai
323 Wallace Ave.,
899-9670
http://simplythaiky.com
https://facebook.com/SimplyThaiSaintMatthews
Another location: 12003 Shelbyville Road, 690-8344