Dining in at Monnik feels safe and comfortable
All but two of Monnik's 16 beer taps are devoted to its own excellent brews. Hauck's American Pilsner, a crisp, flavorful lager in the old style, is a favorite.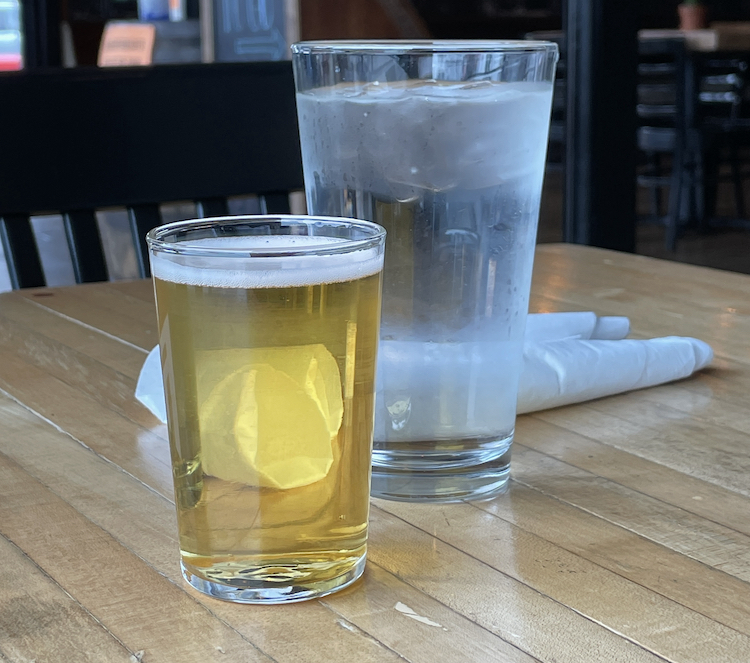 Last week, almost exactly one long year since my last venture inside a restaurant, I decided it was time to go back in. Masked up and fully vaccinated, we pulled open the front door of Monnik Beer Co., chose a table, sat down, and you know what? It felt great!
I felt ready. You may not. Let me emphasize at the top of this review that everyone must make their own decision about when indoor restaurant dining feels safe for you. Covid-19 is still a dangerous disease, particularly for your older friends, relatives, and neighbors. Be careful out there!
But the good news is that vaccines are rolling out at last. More and more of my friends have received the jab, or two. The metro's Covid-19 positivity rate is declining, and we're not a red zone any more. I hope spring break and the mobs that hit local bars for St. Patrick's Day last week won't change that.
Feeling comfortable with that second Pfizer dose established in our systems, Mary and I did our due diligence and identified several local eateries that seem to be doing a good job of keeping diners safe. Monnik clearly passed that test, with its carefully masked staff and tables that appear to even more distanced than the rules require.
I had a great time and didn't worry at all. Mary worried just a little. And we had a delicious lunch that reopened my eyes to what we're missing when we do takeout: Crisp, sizzling fries, frothy, fresh craft beer, dishes that come to the table warm, and beef and lamb still juicy and pink at the center the way they should be.
I'll continue to do takeout mostly until the nation hits herd immunity, but now that I've broken the spell, I'll be less wary about dining in when the opportunity beckons, and much less fearful of well distanced patio dining.
Monnik was a great place to start. Its portfolio of a dozen-plus craft brews is impressive, and its eclectic bill of fare offers elevated, appetizing dishes that go far beyond everyday pub grub.
Only a hectic work day limited me to a single tasting sample of its popular Hauck's American Pilsner, a crisp, golden flavorful lager in the old style. ...
Read the complete article on LouisvilleHotBytes,
http://www.louisvillehotbytes.com/monni ... omfortable
You'll also find this review in LEO Weekly's Food & Drink section today.
http://www.leoweekly.com/category/food-drink/
Monnik Beer Co.
1036 E. Burnett Ave.
742-6564
http://monnikbeer.com
https://facebook.com/Monnikbeer
https://instagram.com/Monnikbeer
Another location: 415 Bank St., New Albany, Ind., (812) 913-4259