Hog Father Pizza Shop brings pizza back to Butchertown
Smoked crimini mushrooms and black olives add umami to a build-your-own Hog Father pizza. On the side, spicy brussels sprouts pack a flavor punch.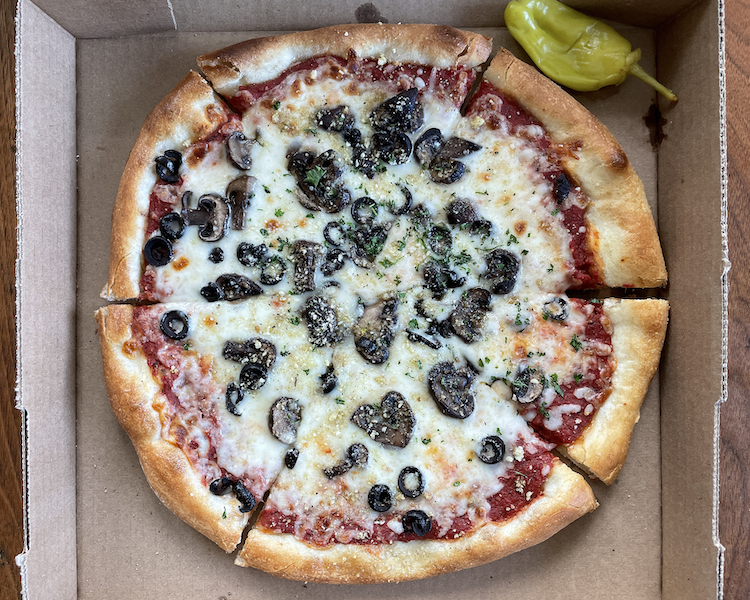 When one door closes, another opens, the sages say. And this simple wisdom appears to be true, at least insofar as the city's pizza scene goes.
It was sad news for local pizza lovers when Butchertown Pizza, one of the city's best, closed its doors in September 2019. Then more bad dining news struck when Couvillion restaurant shut its doors last November.
But then those fabled doors started opening. The space that had housed Butchertown Pizza, nicely renovated, became home to Hog Father Pizza Shop last month. Better still, WLKY-32 reported on its opening day, Couvillion's head chef Crosby Reasor came on as Hog Father's top chef, and brought many of the Couvillion crew along.
The restaurant's name and its logo, a grinning hog with dapper hat and cane, puzzled me at first. Wouldn't a personified pig be more suited to a barbecue joint than a pizzeria? Then I got it: Butchertown! What's more, JBS Swift, the giant bacon makin' plant, lies right across Story Avenue from the pizza shop.
As it turned out, I can see that Couvillion touch in creative and well-made side dishes and a salad that were all really top-notch. I wasn't as whelmed by the main dishes we chose. A pizza and a smash burger were decent but uninspiring. Still, taken as a whole, I give it at least one and a half thumbs up, and would definitely go back for more. ...
Read the complete article on LouisvilleHotBytes,
http://www.louisvillehotbytes.com/hog-father-pizza
You'll also find this review in LEO Weekly's Food & Drink section today.
http://www.leoweekly.com/category/food-drink/
Hog Father Pizza Shop
1301 Story Ave.
409-6180
http://hogfatherpizza.com
Facebook:
http://bit.ly/HogFather