Con Huevos makes takeout brunch work
Two of a set of three street tacos on maiz (corn) tortillas at Con Huevos: Slow-roasted pork carnitas (top) and sirloin steak carne asada.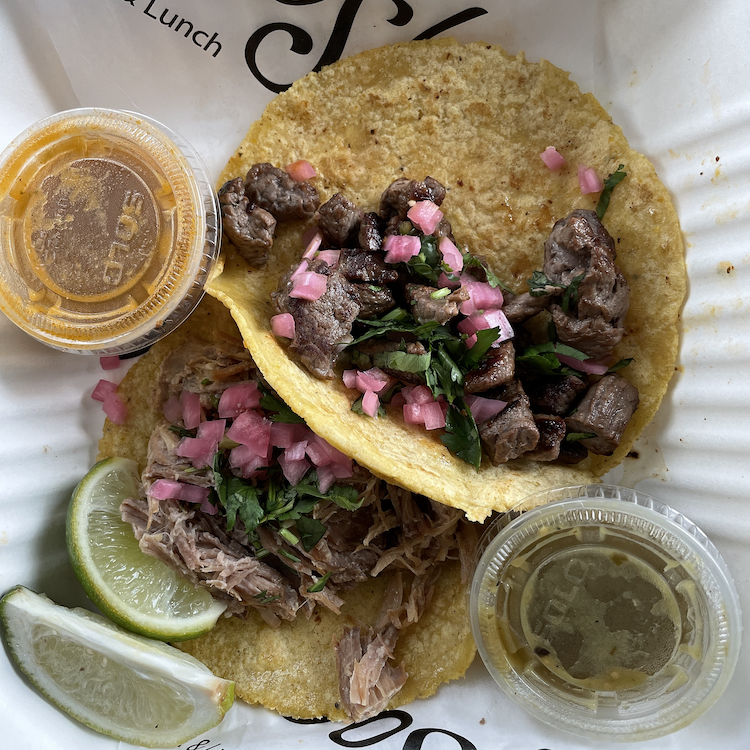 Brunch is one of my favorite meals. It's right up there with breakfast, lunch, dinner, and, of course, breakfast for dinner. Notice how breakfast keeps coming up?
But I've had a problem with brunch since the pandemic has wiped out my enthusiasm for dining inside a local eatery, no matter how carefully socially distanced: I love brunch dishes that feature soft fried eggs or poached eggs, ready to deliver their custardy yolk as a flavor booster to whatever they're served on. Like the huevos rancheros at Con Huevos, for example.
But doggone it, soft eggs just don't work in a takeout box. Just like those not-so-rare meatballs that I complained about the other day, your luscious soft egg is going to keep on cooking in the well insulated environment of a plastic-foam container. By the time you get them home they'll be hard-cooked, and that just doesn't do it.
Does this rule out takeout brunch entirely? No, but you need to bring a different strategy to the menu, and that may involve dropping your old favorites while opening your mind to new and different brunchy treats.
I woke up Sunday morning and realized that Con Huevos brunch would be just the thing for a chilly day with snow in the forecast. No, it wouldn't be wise to try to get anything involving soft eggs home, but that left plenty of options, and opened the possibility of discovering new favorites that I hadn't tried before.
Con Huevos' menu is an excellent brunch option because it offers a good selection of Mexican dishes that work as breakfast, lunch, or a little of both. All the dishes are made from scratch, and you can taste the quality. I've been a fan since the first Con Huevos opened in Clifton in the spring of 2015.
You'll find about 30 tempting dishes to choose from, including breakfast and lunch dishes, egg sandwiches, tacos, even avocado toast. No matter what you choose, it's probably going to cost between $8 (for a four-pancake stack or a quesadilla) and $13 (for a trifecta platter that would be equally at home in Mexico City or Minneapolis with its hearty load of three pancakes, three strips of bacon, and three eggs as you like them). ...
Read the complete article on LouisvilleHotBytes,
http://www.louisvillehotbytes.com/con-h ... out-brunch
You'll also find this review in LEO Weekly's Food & Drink section today.
http://www.leoweekly.com/category/food-drink/
Con Huevos
4938 U.S. Hwy 42
Holiday Manor Shopping Center
384-3744
2339 Frankfort Ave.
384-3027
http://conhuevos.com
https://facebook.com/ConHuevosRestaurant