Make Sal's your go-to for Lenten fried fish
Sal's offers its fresh-fried Icelandic cod on your choice of white bread or dark, aromatic rye.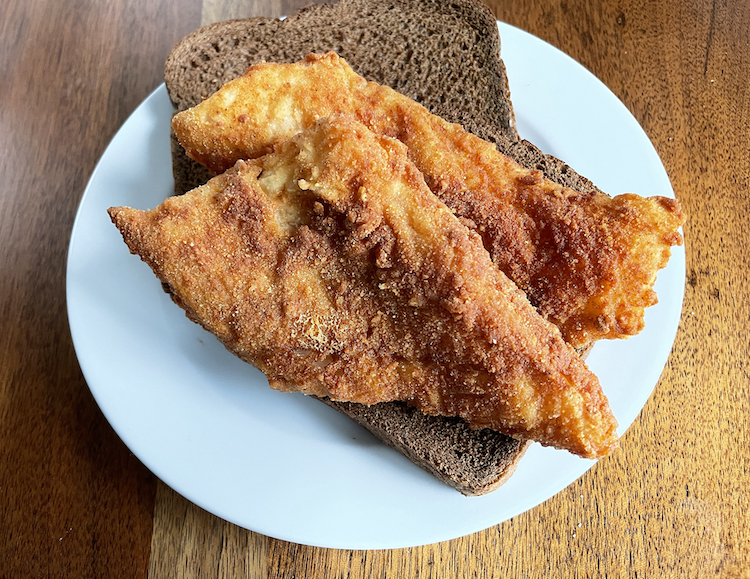 I realized the other day that Ash Wednesday and Lent are coming up, so this is the season when Louisville food writers are supposed to talk about fried fish … and all the Friday fish fries at Catholic (and a few Episcopal) churches around town.
Wednesday was also National Pizza Day!
This was a challenge. Like just about everyone in Louisville, I love fried fish. But I love pizza too. Could I do both?
Luckily, one of my favorite neighborhood pubs, Sal's Pizza Pub in Lyndon, has both good old-school pizza and one of the best fried-cod sandwiches around.
Before we get to that, though, what's up with the Lenten fish fries in this pandemic year? Like the rest of the restaurant scene, things look different. "Parishes are having fish fries, but they're almost all carry out or order ahead, and in some cases the menu may be more limited," said Cecelia Price, chief communications officer at the Archdiocese of Louisville. I suggest you try calling the church of your choice for details if you're not sure.
Despite our inland location, Louisville loves seafood all year 'round, and that's been so for generations, all the way back to the late 1800s, when L&N express trains would rush fresh fish and oysters on ice up from the Gulf to a hungry public. A lot of that hunger was driven by German and Irish Catholic immigrants who chose fish on Fridays, especially during Lent; and the tradition endures to this day.
I count more than 20 local eateries serving seafood and fish, and virtually all of them feature mild white fish, often cod, fried in a crunchy coating. It may be served on a bun or bland white bread, but deep Louisville tradition calls for rye bread – perhaps in a nod to the German share of our immigrant heritage.
I'd be hard pressed to name a local favorite, but I keep coming back for Sal's fish sandwich. Pizza may be the eatery's middle name, but that cod sandwich, which they not so shyly call "Our Famous Fish," is as good as I ever ate.
Sal's fish sandwich is $9.99 with two pieces of Icelandic cod, a bag of potato chips, and a pickle; as a platter with cole slaw, hushpuppies and fries. it's $15.99 with white, wheat, or rye bread. I recommend the rye. ...
Read the complete article on LouisvilleHotBytes,
http://www.louisvillehotbytes.com/sals-lent-fish
You'll also find this review in LEO Weekly's Food & Drink section today.
http://www.leoweekly.com/category/food-drink/
Sal's Pizza & Sports Pub
812 Lyndon Lane
365-4700
http://salspizzalouisville.com
Facebook:
http://bit.ly/Sals-Pub