Big Momma's Soul Food Kitchen lures us West
Big Momma's fried chicken was outstanding, crisply breaded, juicy, and lightly spiced with cayenne. It's shown here with delicious green beans and a chunk of cornbread.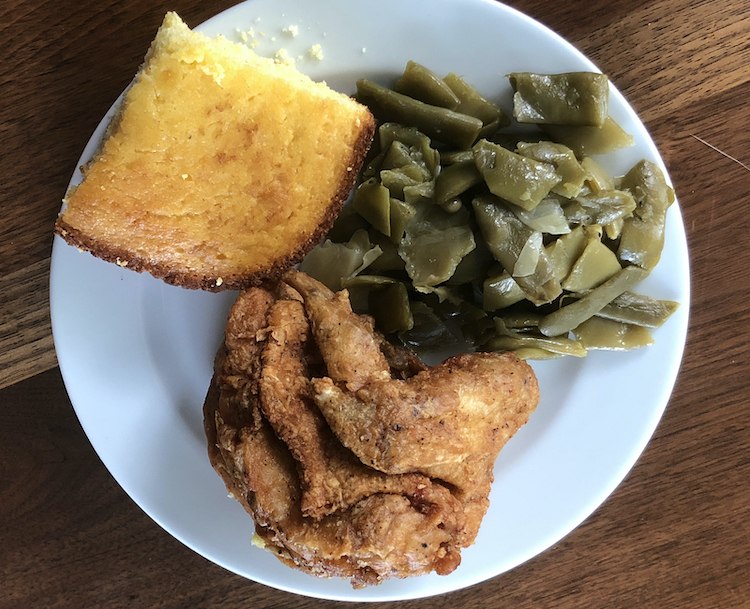 Ladies and gentlemen, boys and girls, we interrupt our dining review for this public-service announcement: Have you voted yet? Good! Wait, you over there! You haven't voted? Please vote on Election Day, Nov. 3, or vote early in person at one of Louisville's convenient early polls. But vote! Vote as if your life depends on it, because just possibly it does. 
There! I'm glad to get that off my chest. We voted last week. It was easy. It really felt good. And best of all, it led us toward this week's exceptionally tasty food report.
Here's how it went down: We voted early at the Kentucky Center for African-American Heritage, then decided to grab a delicious soul-food meal from a Black-owned West End restaurant.
It was a great idea.But where to go? There's a ton of small eateries west of Ninth Street, but one spot stood out: Big Momma's Soul Food Kitchen on West Broadway near Shawnee Park.
We got there at noon, opening time, and found nine people already lined up in front of us, all masked and carefully keeping their six-foot distance. Only five people are allowed inside at once during the pandemic, and there's no dining in, so the line outside builds up fast.
We got in soon enough, though, took our place, keeping our distance, as we examined the big wall menu and the day's food specials safely behind glass. You step up and yell your order into the mike when your turn is called, then wait to be called up to the window to pay and grab your meal.
There's a separate menu for each day Big Momma's is open – noon-7 p.m. Wednesday through Friday, 1-7 p.m. Saturday and Sunday – with choice of 10 or 11 dishes every day but Sunday, which boasts a celebratory 15. It's a meat-and-two operation, offering your choice of one meat with any two sides. Prices aren't shown, but most meat-and-two combinations are $10.
Many of the items are available every day. You can't miss if you're in the market for fried or baked chicken, meatloaf, or the basic side dishes mac & cheese, green beans, mashed potatoes, beans, and cabbage. They're all available every day.
After that it gets a little more complicated. ...
Read the complete article on LouisvilleHotBytes,
http://www.louisvillehotbytes.com/big-mommas-soul-food
You'll also find this review in LEO Weekly's Food & Drink section today.
http://www.leoweekly.com/category/food-drink/
Big Momma's Soul Food Kitchen
4532 W. Broadway
772-9580
Facebook:
https://bit.ly/BigMommasSoulFood