Jade Palace's dim sum makes great takeout
Chinese broccoli and black mushroom noodle soup comes with the broth separate for you to mix at serving time.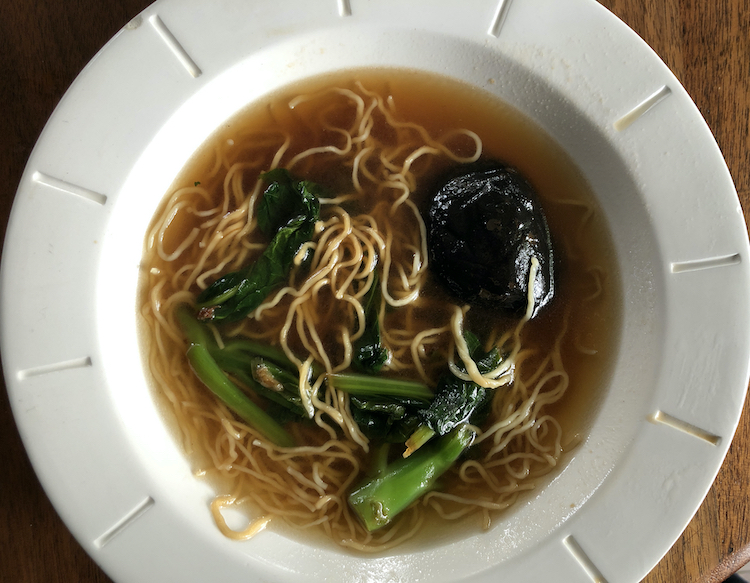 I've been a big fan of Jade Palace's dim sum ever since the late 1980s, when this popular eatery in what is now Westport Village introduced Louisville to these tasty, bite-size Chinese snacks.
But the other day I had a pandemic-related revelation: In these days when many of us are wary about dining indoors at a crowded restaurant: Dim sum makes a great takeout alternative. In fact, Jade Palace is closed to dining in during the pandemic, but it does offer takeout, curbside pickup, and delivery.
So we came, we saw, we carried out, and I was as happy as could be to spread an array of favorite Chinese small plates across our dining-room table.
Jade Palace's online menu covers a vast range of about 300 familiar Chinese and Chinese-American dishes; the "Chef's Specialities" section offers an extensive list of Hong Kong cuisine, with most entrees ranging in price from $9.99 to $16.99.
I recommend the dim sum, though. That's where Jade Palace really shines. You'll have to scroll down to the second page of the online menu to find it, just past the chow mein and chop suey.
Once you're there, you'll find some 75 of these bite-size delights, organized under small, medium, and large and priced to fit: Small items are mostly $3.99. Medium-size dim sum are mostly $4.99, while the large and extra-large items range from around $8 to $12.
It's customary to conclude a leisurely dim sum lunch with a larger rice or noodle dish or main-course soup, and Jade Palace's menu offers plenty of these options, too, most priced from $10 to $16.
There's no way I can describe all 75 different dim sum in this space, so let's just talk about the goodies that we brought home. Our order came out to curbside right on time and stayed hot in their white plastic-foam packages. ...
Read the complete article on LouisvilleHotBytes,
http://www.louisvillehotbytes.com/jade-palace-dim-sum
You'll also find this review in LEO Weekly's Food & Drink section today.
http://www.leoweekly.com/category/food-drink/
Jade Palace
1109 Herr Lane
Westport Village
425-9878
http://jadepalacelouisvilleky.com
https://facebook.com/jadepalacelouisville