Pollo chicken food truck lands in Clifton storefront
Topped with lettuce, tomatoes, jalapeños and banana peppers, Pollo's chicken stir fry plate has plenty of juicy roast chicken and steaming rice beneath.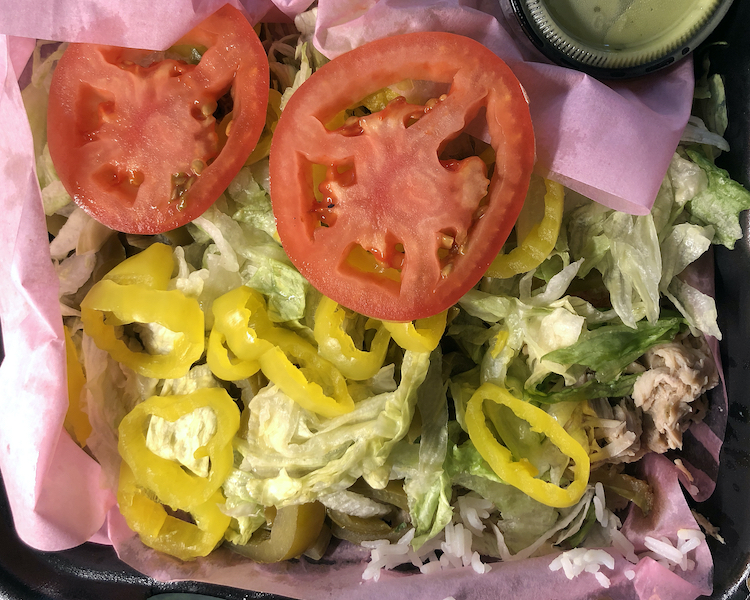 "From food truck to brick and mortar. A dream has come true!" With palpable joy, Troy King and Selena Johnson, the owners of the Pollo food truck and Shelby Park's popular Six Forks Burger Co., announced on social media last month that Pollo has landed in a Clifton storefront.
Pollo – or "Pollo - a gourmet chicken joint" if you want to be formal about it – has been a familiar sight around town with its rolling quarters in an old, short school bus painted dark gray. It's been operating since 2014, but King and Johnson were eager to add a land-based location just as Six Forks marked its first anniversary this month. <!--more-->
Occupying the former home of Ngon Appétit Vietnamese in a Lower Brownsboro strip center not far east of Clifton Kroger, Pollo currently has room for only a few socially distanced tables in a dining room decorated with exuberant hexagons in pink, yellow, black and white. Four more properly spaced tables reside out front, in a shaded inset space and a colorful corral set up in a parking space. An online menu is available for takeout or delivery, and they'll bring your lunch to you at curbside if you prefer.
Despite the restaurant's Spanish-sounding name, its menu incorporates a variety of mostly down-home-style dishes plus a few tempting alternatives with flavors from France, Thailand, and yes, a quesadilla, tamales, and a couple of tacos.
The menu, which contains many familiar items from the food truck, features seven sandwiches and 12 entrees. Needless to say, every single one of them features chicken. That said, however, many of the dishes may be made with your choice of fried chicken, roast chicken, or Nuggs, one of the latest (and perhaps one of the most persuasive) of the modern crop of plant-based meat lookalikes.
Appealing pricing makes Pollo one of the best deals around, with no entree more than $9.95 (for fried wings). The bottom end of the price range lands at a thrifty $6.50 (for fried chicken tenders or tamales smothered with queso blanco and Monterey Jack) ...
Read the complete article on LouisvilleHotBytes,
http://www.louisvillehotbytes.com/pollo-chicken-clifton
You'll also find this review in LEO Weekly's Food & Drink section today.
http://www.leoweekly.com/category/food-drink/
Pollo - a gourmet chicken joint
1991 Brownsboro Road
742-4596
http://pollolouisville.com
https://facebook.com/pollolouisville/