Soft shell crab tacos lure us to Red Hog
Red Hog's soft shell crab taco for Taco Tuesday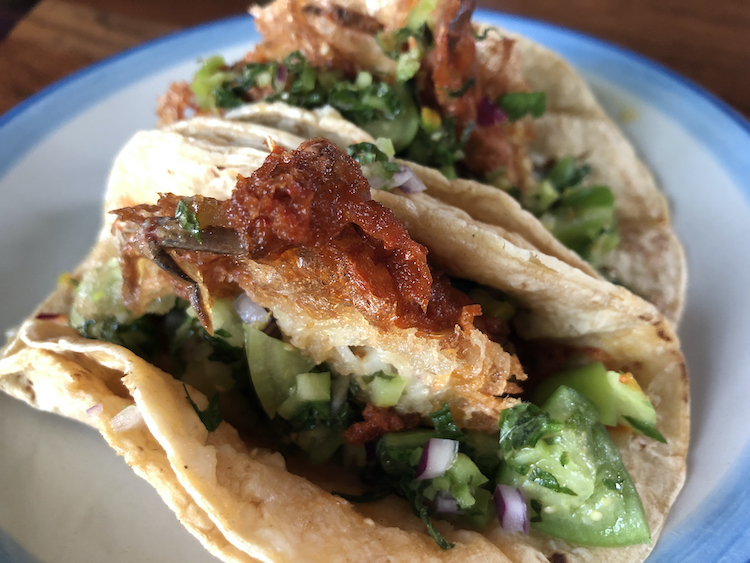 It all started, as things so often do, on social media. I was browsing Instagram, tapping through a lot of the local restaurants that I follow, when a simple white-on-black text image caught my eye.
"
Taco Tuesday
," read the post from
Red Hog Artisan Butcher
. And then the clincher: "
Fried Soft Shell Crab Tacos!
"
"Taco Tuesday is just around the corner," the restaurant posted below the alluring image, "and we are getting live soft shell crabs boat direct from 
@teamseafoods
 [a national quality seafood provider]. We can't wait to feed you Red Hog Lovers!"
"I NEED the crab taco

," a fan responded within seconds, and before you knew it, Red Hog's post had 79 likes. Mine was one of them, and I raced down the link to their website, and then their voice mail, hoping to get an order in before they ran out.
As it happens, Red Hog is closed Mondays, so I had an impatient overnight wait before connecting with a worker there at opening time, 11 a.m. I must have been first in line, as they told me the soft shells were just coming off the truck and not even in their point-of-sale system yet. Fine! Just reserve me one? And so they did. ...
Read the complete article on LouisvilleHotBytes,
http://www.louisvillehotbytes.com/soft- ... ab-red-hog
Red Hog Artisan Meat
2622 Frankfort Ave.
890-6976
http://redhogartisanmeat.com
https://facebook.com/redhogbutcher
https://instagram.com/redhogbutcher