What's a bhaji pav? Honest Indian's new delights
Bhaji Pav, a spicy vegetable puree with toasted rolls, is a Mumbai favorite and a standard at Honest's properties across India and the U.S.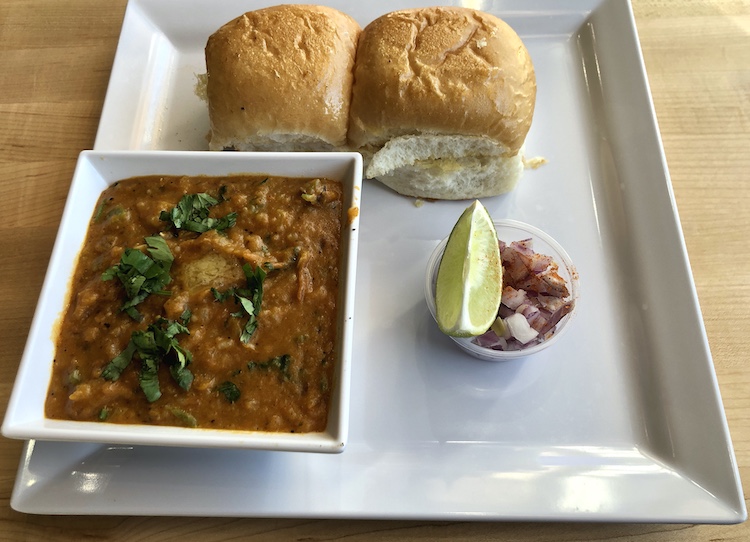 Way back in 1975, when hardly anyone around here knew what street food was, Vijay Agrawal took his first steps toward culinary success when he added bhaji pav – a popular Mumbai veggie curry dish served with white rolls – to the selection of his outdoor chaat (snack) cart in downtown Ahmedabad, India's fifth-largest city.
People loved it, and before long Agrawal opened his first sit-down restaurant. He called it "Honest," and the food was honest, and before long he had shops all over Ahmedabad, then all across India, prompting jokes about "The Indian McDonald's." Next they opened shops in Thailand; and then in 2016 his company opened its first U.S. Honest Indian Restaurant in suburban Chicago.
Less than four years later there are 14 Honest restaurants in eight U.S. states plus two in Canada. Louisville's first Honest Indian Restaurant opened about a month ago, after several months of construction, in a large vacant space near South Hurstbourne Parkway and Taylorsville Road that had housed a long-closed Beverage Warehouse.
Like its near neighbor, the locally owned Shreeji Indian Vegetarian Street Food, Honest's bill of fare is entirely Indian and vegetarian. But street food – simple but delicious ready-to-eat fare traditionally sold from carts and eaten outdoors – constitutes only a relatively small portion of Honest's menu, which primarily features full dinner plates and sampler thali platters.
It's a large room, with large windows across the front and white and beige walls around the rest of the space. Drum-shape pendant lights hang from a high ceiling with exposed metal rafters. Comfortable booths line the perimeter, with high-back chairs surrounding pale-tan wood-look tables in the rest of the room.
The large eight-page menu places its iconic bhaji pav on the first page, then goes on through more than 150 choices in an almost bewildering set of sub-categories such as pulav, Bombay chaat, Indian-style pizzas and sandwiches, South Indian, and Indo-Chinese specialities, and a long list of Punjabi dishes earmarked by gravy color: red, brown, green, and white! There's a good selection of Indian breads, lentil dal and rice plates, thali (combo) platters, and even Indian desserts.
Pricing is attractive, with just about all the dishes priced within a narrow range from $5.99 to $9.99 save for the Punjabi specialties and thalis, which are tagged in the still-attractive range from $9.99 to $12.99. ...
Read the full review on LouisvilleHotBytes,
http://www.louisvillehotbytes.com/honest-indian
You'll also find this review in LEO Weekly's Food & Drink section today.
https://www.leoweekly.com/2019/12/every ... men-house/
Honest Indian Restaurant
9008 Taylorsville Road
690-8355
http://honestrestaurantsusa.com/Louisville_Menu.pdf
Facebook:
http://bit.ly/HonestIndian
Robin Garr's rating:
86 points.
Noise level:
With the room less than half filled for a late lunch, noise was minimal in the large shopping-center space. (Average sound level was 72dB, in the range of normal conversation.)
Accessibility:
The entrance, restrooms, and tables except for booth seating appear fully accessible to wheelchair users.