Butchertown Grocery Bakery bakes up deliciousness
Artisan loaves in open baskets await buyers at Butchertown Grocery Bakery.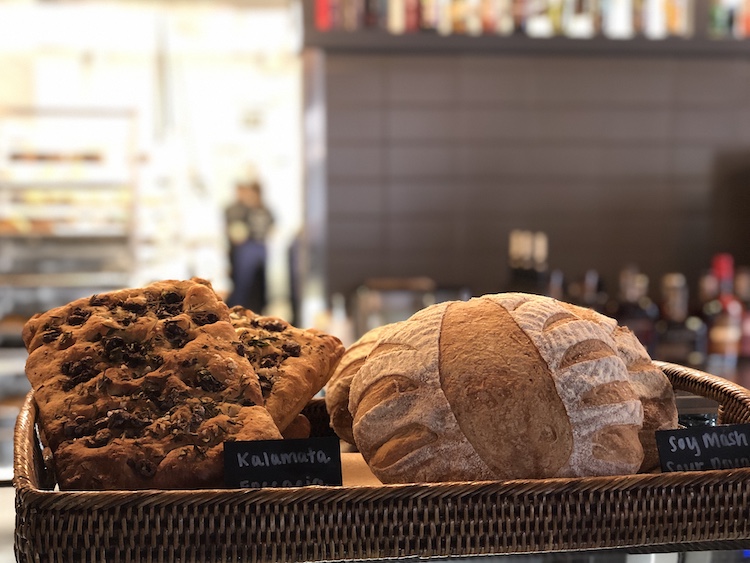 The funky, stylish storefront offers European-style artisan breads, pastries, desserts, and an intriguing menu of creative sandwiches, salads, greens and grains, plus espresso drinks, beer and bourbon out front of its expansive bakery space. Nope, it's not Blue Dog, but it follows a similar path to deliciousness as the Crescent Hill icon: We're looking at you, Butchertown Grocery Bakery.
Opened late in October on East Main Street where Butchertown meets Nulu, Butchertown Grocery Bakery occupies the substantially renovated industrial building formerly occupied by EMR Electric Motor Repair & Rewind.
Like a lot of other light-industrial businesses that once lined East Main and Market streets, EMR moved to a Jeffersonville industrial park in 2015, declaring on its website that it's now comfortable in "a larger building, better location, and all-around nicer area."
Uh huh. Nicer for factories, anyway. This story captures in miniature the journey that Nulu and Butchertown have taken over the past two decades: Out with light industry, in with boutiques, specialty shops, restaurants, bars, hotels … and suddenly a trendy neighborhood is born.
Butchertown Grocery Bakery fits that model well. Sister establishment of Butchertown Grocery, the popular eatery opened by Chef Bobby Benjamin in 2016, its renovation has converted the 45-year-old factory building with its 20-foot ceilings into something with a warm look of greater antiquity, in a good way.
Dark gray and white paint covers concrete-block walls. A long communal table that can seat a dozen is made of rough-hewn wood. Comfortable swivel chairs provide seating along a low bar facing large windows on the front and sides.
Butchertown Bakery Grocery is open daily from 7 a.m. to 7 p.m., with breakfast and lunch items served all day ("or until an item runs out," a counter server explained). Baguettes, biscuits, buns, muffins, focaccia, bialies and bagels, viennoiseries, tarts, cookies and desserts are all made fresh daily in the commercial bakery at the back. ...
Read the full review on LouisvilleHotBytes,
http://www.louisvillehotbytes.com/butchertown-bakery
You'll also find this review in LEO Weekly's Food & Drink section today.
https://www.leoweekly.com/2019/12/every ... men-house/
Butchertown Bakery Grocery
743 E. Main St.
742-8315
http://butchertowngrocery.com/bakery
https://twitter.com/btowngrocery
https://instagram.com/butchertowngrocery
Robin Garr's rating:
85 points.
Noise level:
The room was filled and we shared a long communal table, yet noise was surprisingly moderate. (Average sound was 72dB, in the range of normal conversation.)
Accessibility:
Seating and the nicely appointed unisex restroom are accessible to wheelchair users, but a double bump over a metal threshold and 1/2-inch concrete step at the entrance, while not an insurmountable barrier, could be a difficult push for some.