Jasmine Bistro impresses with Chinese regional flavors
The cumin beef at Jasmine is dry-fried, crisp, fiery and deeply flavored.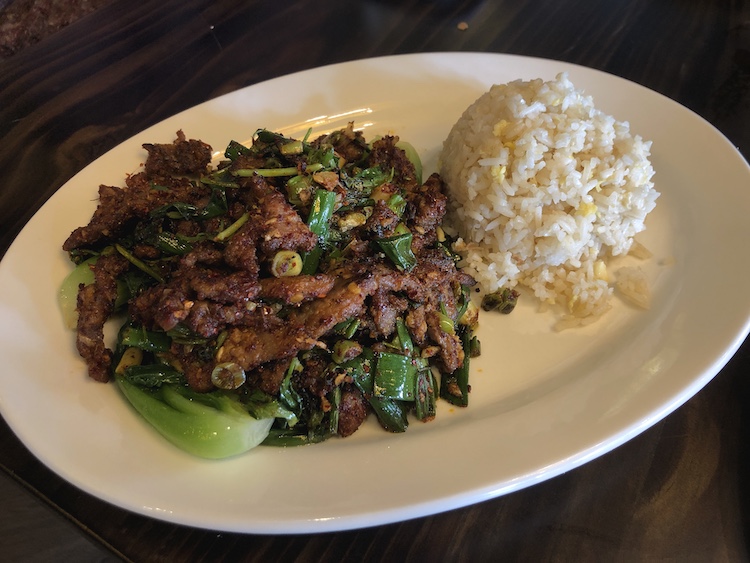 I still vividly remember the excitement of my first tastes of Sichuan cuisine. We had to travel to New York City, San Francisco or Chicago to get such goodies back in the late '70s, but Sichuan, aka Szechwan, fare did get to Louisville finally, and for a decade or two, these spicy regional cuisines were among the city's most popular dining options.
Our tastes and our options have since grown diverse, and now that there's a quick-service Chinese restaurant in just about every shopping center in town, General Tso's chicken is just another ho-hum option.
But a couple of destination Chinese eateries remain, and one of the top spots, Jasmine Szechwan Chinese Cuisine in Middletown, has just doubled down. Really doubled: Now there are two Jasmines, with the arrival of the same owners' Jasmine Asian Bistro in a shopping center along Lime Kiln Lane in the Holiday Manor neighborhood.
It's an attractive room, with wall-size glass windows along two walls, a short sushi bar is lined with a half-dozen tall leopard-print stools, and a row of booths are separated by stone arches. In a variation on the usual Chinese-restaurant Great Wall paintings and bas-relief dragons, a large mural over a banquette at the back of the room is a stylish mix of traditional Chinese drawing and attractive street art. Shiny wood-look tables are set with flatware rolled in paper napkins; chopsticks are available only on request.
As with its original East End operation, Jasmine Bistro's menu covers a broad range of standard Chinese-American dishes including sweet and sour chicken ($9) and pepper steak, ($12), eight kinds of fried rice (from $8 to $11) and less-familiar authentic dishes such as hong shao rou, Shanghai-style braised pork belly ($12) and seafood fish belly soup ($8). All dishes are listed in both English and Chinese, and entree prices are contained within the range of $8 to $15.
Eight varieties of sushi roll range in price from $5 for the familiar California roll to $13 for several fancy options including the White Castle roll, which, happily, is not composed of deconstructed sliders but honors the beloved soaring white samurai castle in Himeji, Japan.
An extensive lunch menu includes 30 dishes, all served with white or fried rice and choice of egg drop, hot-and-sour, or wonton soup, from $6.99 to $8.99.
We stopped in at lunchtime but chose from the dinner menu and were happy with everything we tried ...
Read the full review on LouisvilleHotBytes,
http://www.louisvillehotbytes.com/jasmine-bistro
You'll also find this review in LEO Weekly's Food & Drink section today.
http://www.leoweekly.com/category/food-drink/
Jasmine Asian Bistro
2420 Lime Kiln Lane
618-3000
http://jasmineasianbistroky.com
Robin Garr's rating:
86 points.
Noise level:
The average sound level at lunch was 77dB, making conversation easy, although an investment sales pitch at a nearby table occasionally spiked to a piercing 92dB.
Accessibility:
The modern shopping center dining room and restrooms are accessible to wheelchair users, except for tall stools at the sushi bar.